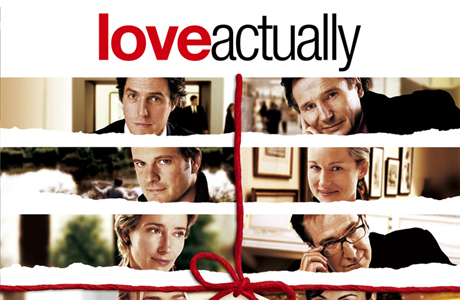 Love Film and Mind Lab International polled 150 people in hopes of determining the most romantic movies with Love Actually landing in the top spot, reports the MailOnline.
Actually, it isn't too surprising to hear these results with the multi-layered, loved up story lines running throughout the film and possibly inspiring viewers to think, "That could be me too." According to neuropsychologist Dr. David Lewis, founder and Director of Mindlab International, these films all trigger "mirror" neurons in the brain.
He told the Mail, "If an on-screen couple share a passionate kiss, the mirror neurons in the viewers' heads will fire as if they were doing the kissing."
He expanded on this statement saying, "They (viewers) will experience the same powerful and pleasurable emotions that are being depicted on screen."
Uh-oh, what if you're watching a mob film? Or an action thriller? Will you share their feelings as well? … well, we'll take the above with a grain of salt but it's an interesting theory.
Now we're just picturing people, sitting at home watching a movie, making "kissy face" with their eyes closed because their neurons are at full blast.
With that said, here is the entire list:
1. Love Actually (21 per cent)
2. The Notebook (18 per cent)
3. Wall-E (13 per cent)
4. Notting Hill (9 per cent)
5. Dirty Dancing (8 per cent)
6. Ghost (5 per cent)
7. Pretty Woman (4 per cent)
8. Titanic (3 per cent)
9. Jerry Maguire (2 per cent)
10. Casablanca (1 per cent)
Did your favorite movie make it to the list? 
Read More
Filed Under: