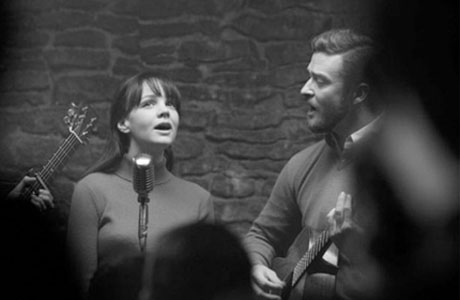 Justin Timberlake has recorded a single with Mumford & Sons lead singer Marcus Mumford, reports the UK's Capital FM.
Right, so how did this come about? Timberlake recently filmed a movie with Carey Mulligan (who played Sally Sparrow in the Doctor Who episode Blink); Mulligan recently married Mumford; Timberlake met Mumford through Mulligan. Got that?
Alright, well, there's probably more to it but that's how Timberlake makes it sound, saying, "Ok I can tell you this. There's a Coen brothers film coming out soon that I was lucky enough to work with Oscar Isaac and Carey Mulligan. Coincidentally, I did work with Marcus Mumford on the soundtrack, so I became very good friends with them."
Timberlake himself hints at it being an unlikely match-up saying to Captial FM, "Marcus and myself, we all kind of worked on the music together and I don't know any other world where we would have the opportunity to collaborate like that but it was so much fun."
It sounds like a case of being in the right place, at the right time. And, the right girl to introduce the fellas. It's kind of like the chicken and the egg; which came first? The song or the friendship? But, does it really matter if it was planned out all along or something that came up on set because of a happenstance meeting. Either way, we appreciate both musicians for their individual talents and are excited to hear the final product.
The film you ask? Oh yeah, there's a film … not just a song. Timberlake plays a supporting role in Inside Llewyn David. The film is about a folk singer (Isaac) making his way through NYC in 1961. Mulligan plays the singer's ex. We're not sure if we'd call her an ex-girlfriend, ex-lover or what because she doesn't seem to be too keen on him, which probably means she's still in love with him.
WATCH: Inside Llewyn Davis Trailer
CBS Films purchased the distribution rights, with the release date TBD.
What do you think of this pairing? 
Read More
Filed Under: