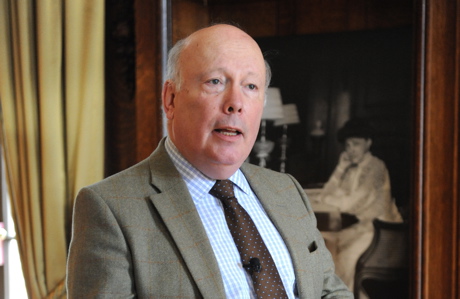 Warning: Read no further if you haven't yet watched the final episode of this season's Downton Abbey, which aired Sunday night. Spoilers abound.
The final credits on Downton's third season had barely finished rolling on PBS when The New York Times posted on its web site (and printed in Monday's edition) a Q&A with Julian Fellowes, the creator and writer behind the Emmy-winning period drama.
To Downton fans, Fellowes is also now known as The Widow Maker or The Man Who Killed Matthew Crawley.  In the final moments of Sunday's finale, Lady Mary (played by Michelle Dockery) was left a widow when beloved husband Matthew (Dan Stevens) dies in a car crash immediately after visiting her in the hospital and cradling his new infant son and heir.
The New York Times asked the obvious question: why did Fellowes send Sybil and Matthew, two of the show's most popular characters and key members of the Crawley family, to their deaths this year?  Blame the actors, said Fellowes, explaining that Jessica Brown Findlay and Stevens, who played the roles, decided against renewing their contracts when they expired at the end of three years.
"We wanted them to stay and said, 'Would you just do two or three episodes? And then you're living in America or in Dublin,' " said Fellowes. "But they both felt they wanted to make a clean break."
Fellowes argued that, given the unwillingness of these two young stars to come back even for guest shots, he had no choice but to kill off their characters.
"When an actor playing a servant wants to leave, there isn't really a problem – [that character gets] another job. With members of the family, once they're not prepared to come back for any episodes at all, then it means death. Because how believable would it be that Matthew never wanted to see the baby, never wanted to see his wife? And was never seen again at the estate that he was the heir to? So we didn't have any option, really. I was as sorry as everyone else."
Downton has already begun production on its fourth season in England. Fellowes isn't giving up specifics about what will happen, but did say, "One of the main themes is the rebuilding of Mary, that Mary has to rebuild her life in a society which is changing. We would see women's roles in the '20s as being very much behind women today. But it was a big advance on what it had been 30 years before. And that's all explored in the show."
For the full interview, click here.
———————————
What do you want to happen in season four of Downton Abbey?
———————————
Read More
Filed Under: