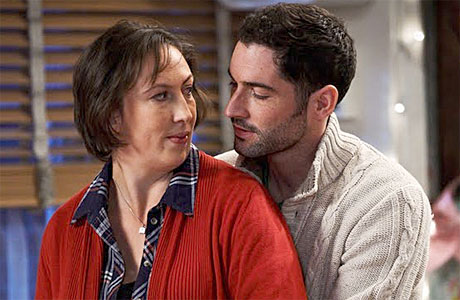 Things are looking good for Tom Ellis right now. He's been in Merlin, he's been in Doctor Who, and he's been the ever-loving Gary in Miranda. His profile is high enough now that he can talk about chancing his arm in Hollywood and not look big-headed, and, if certain internet rumours are to believed, he may be about to join the cast of the biggest period drama in the world.
That's Downton Abbey, in case the headline wasn't explanitory enough.
It seems that, after certain recent events (no spoilers), there's a vacancy for a new hot male lead in the show, to forge some kind of relationship with (well that would be telling), and Tom's name has been put forwards as a perfect candidate.
An ITV source has told Cosmopolitan that it's a perfect fit, as far as they are concerned: "Tom has always been popular but he has really become hot property since his role as Gary in Miranda.
"He really showed his versatility and he's also incredibly popular with the female viewers. It was an absolute no-brainer to get him in for an audition."
Oh! He's only auditioning? But, but…we thought you really liked him?
"We know that Tom's got a lot of other options at the moment but if he does get the role it will be an incredible opportunity for him."
Well yes, of course. But surely you'd be glad to have him aboard too?
"A lot of the ­current cast have become global superstars. And it is always a bit of a coup for us to attract a ­major BBC star to a flagship ITV show like Downton ­Abbey."
Oh that's OK then. So long as your intentions are pure.
Read More
Filed Under: