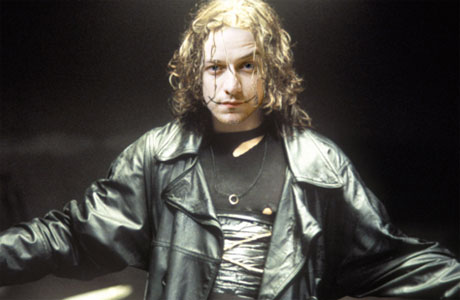 Y'know how sometimes you hear a hot movie rumor and you kind of know it's a bit fanciful and unlikely, that even if it has a basis in fact it's probably not really going to pan out into true glorious reality, but it's so delightful that you just have to share it anyway?
Well hello! We've got one. James McAvoy – of X-Men/State of Play/Narnia fame – to star in a remake of the gothic horror movie The Crow, as, y'know, the Crow.
The horror site Bloody Disgusting (and let's have a ripple of applause for the name, please), have it on good authority that James is in talks with Relativity, the film's producers, as a potential lead for a remake. Mark Wahlberg had been in the running for a while, and now James is too.
The role, if you've not seen the film (or read James O'Barr's stunning 1989 comic book), is that of a nice young man called Eric Draven. Eric and his fiancée are brutally murdered when their car breaks down on a remote road, and a passing gang of bored and rotten swine decide to attack them, for no good reason. Somehow, Eric pulls himself back to life, reincarnating as a vengeful gothic hero – like a buff Robert Smith of the Cure – who chases down each of the men and… well that would be telling.
F. Javier Gutierrez is set to direct, from a screenplay by Jesse Wigutow. Which means A remake is probably going to happen. Whether it ends up starring Niceface McAvoy is a whole other matter.
But let's at least be thankful no one has suggested Russell Brand.
Read More
Filed Under: