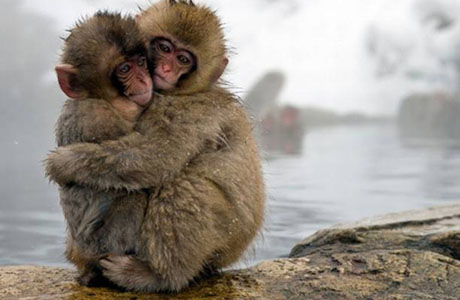 BBC Earth Film's One Life, narrated by Daniel Craig, premieres tonight (February 21) at NYC's Angelika at 7pm, followed by a Q&A with director Michael Gunton (Earth: The Movie).
WATCH: One Life Trailer

The film opens up with Craig starting the story with, "There are 5 million species; 5 million different ways of staying alive; this is a story that connects us all." Craig helps to guide us through the stories, stepping beyond his narrator role, and really giving voice to the "characters" we meet. In Mondika, Congo we are introduced to a male, silverback gorilla who is not quite the hands-on dad. Craig steps in and humorously says, "Babysitting. It's SO exhausting. Sigh."
Filled with filming firsts – an animal filmed for the first time, a behavior that was captured for the first time, or a new filming technique – we witness the life, adventures and struggles of a range of wildlife from a seal in Antarctica with her newborn pup; snow monkeys in Japan who avoid the cold weather by soaking in hot thermal springs; to the grass-cutting ants in Argentina who funnily enough, don't eat grass.
We had the pleasure to sit down with director Michael Gunton and while we can't meet all 5 million species he points out that the takeaway is to remember that animals have personalities, character and most importantly they are individuals.
When we asked Gunton what viewers can expect from this film, his response was, "An extraordinary experience." He went on to elaborate saying, "Viewers will get close to a lot of animals. Get into wildlife and think, 'Yeah, I have more in common with them than I thought.'"
One Life is the type of film that you go in to the theater, and an hour later, you leave feeling a whole lot smarter and you think to yourself, "I just learned something and all I did was sit on my arse." The reason being, Gunton and his team do the work for us by poring through hours of footage and spending months working with Craig to get the narration down right.
Gunton gives credit to the audience when he says, "The most basic human characteristic is curiosity. And, it is the most admirable." He adds: "Documentaries make you feel good. It's a very powerful form of communication when the film is informational, educational and entertainment."
He hit the mark on all three.
Craig agrees, saying, "For the filmmakers who spend their entire lives recording beautiful images of planet earth's dwindling wildlife, I have only a sense of awe and deep rooted respect." It is indeed a humbling experience, even for James Bond.
One Life is not only stunning in its sweeping yet intimate cinematography, but also inspiring, with Gunton reminding us that "life is so powerful it renews itself." The 90-minute film is made up of short vignettes providing a close look at animals in their out-of-the-way natural habitats, never losing the viewers' attention.
If you'd like a chance to ask director Michael Gunton more questions directly, you can! He will be taking over the BBC Earth Facebook page this afternoon through tomorrow. You can go here to hear more about his experiences on One Life and the upcoming and the upcoming Blu-ray/DVD release of the 6-part TV series Africa (February 26), co-produced with the Discovery Channel, narrated by renowned naturalist Sir David Attenborough.
For theater and ticket information visit: www.OneLifeOnScreen.com.
What did you think of the sneak peek of the trailer? 
Read More
Filed Under: