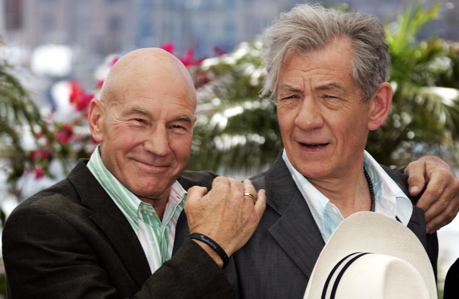 X-Men colleagues Ian McKellen and Patrick Stewart are going to be reunited on stage in Broadway productions of Samuel Beckett's Waiting for Godot and Harold Pinter's No Man's Land this fall.
The two will also be appearing in the new X-Men movie, X-Men: Days Future Past, but the film won't hit screens until sometime next year.
Before then, Broadway audiences will have a chance to see Sirs Ian and Patrick in masterworks by two of the greatest playwrights of the 20th century.
In 2009, the two actors appeared together in Waiting for Godot in London's West End, with Stewart playing Vladimir and McKellen playing Estragon, in a production that emphasized the play's comedic and vaudeville elements. Here they are dancing a little jig to the famous music hall standard "Underneath the Arches" during a curtain call:
In No Man's Land, Pinter's story of a tense meeting between two mysterious men of letters, Stewart will play the role of Hirst, originally played by Ralph Richardson in 1975, while McKellen will play Spooner, a role originated by John Gielgud.
The rest of the casts of both plays have yet to be announced.
McKellen and Stewart first worked together on stage in the 1977 premiere of Tom Stoppard's Every Good Boy Deserves Favour, but even though the X-Men movies reunited them three times on the screen, they didn't appear together on stage again until 2009 for Godot.
At the time, the two men spoke in a joint interview to the Telegraph about their friendship and overlapping histories.
"We're both from the North of England, separated by the Pennines,* born only 18 months apart," Stewart said, adding that the two found "a little haven" in late night trailer conversations on the X-Men sets.
"We used to sit in your trailer, didn't we?" McKellen recalled jokingly to Stewart. "Often as not, it was bigger than mine."
"Mainly, we would laugh a great deal," said Stewart.
Stewart also said that of all the people he consulted during his decision about whether to take the Jean-Luc Picard role in Star Trek, McKellen was "the only person who advised me not to do it."
"Well there you go," responded McKellen. "How wrong can a fellow be?"
Here's a clip from a British awards ceremony in which Stewart, joined by Roger Rees, a co-star of the London production of Waiting for Godot, presents an award to McKellen:
* An English mountain range that separates Lancashire and the North West from Yorkshire and the North East.
Read More
Filed Under: