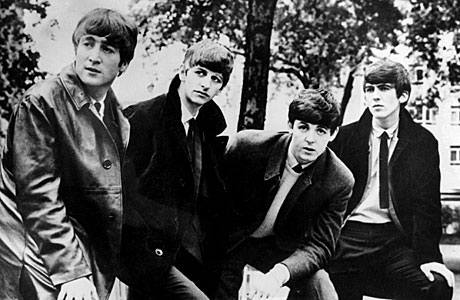 50 years ago today, the four musicians in the Liverpudlian band the Beatles assembled in the EMI studios in Abbey Road, London, to make their debut album. There were 10 tracks to record, so that, with the addition of the A and B-sides of the group's two singles to date, a 14-track album could be assembled.
Time was of the essence. The band had recently created something of a stir with their second single "Please Please Me," and so the race was on to capitalise on this interest while it lasted, but without losing any of their promotional bookings along the way. Accordingly, one long recording session was booked for the band to run through the best 10 songs of their current stage act.
On the day, John Lennon turned up with a streaming cold (you can still hear it in his voice) and a big jar of cough sweets, and recording began. They whizzed through "There's A Place," "I Saw Her Standing There" (known as "Seventeen" at the time), "A Taste of Honey," "Do You Want To Know A Secret," finding time to overdub harmonica on a song here or handclaps there. Despite the pressure of the day, there was even time for one entire song – "Hold Me Tight" – to be recorded and scrapped (it was later released on the British album "With The Beatles."
But of course these stories don't become mythic or even particularly interesting unless there's an element of jeopardy. Having completed nine songs and scrapped one, the band wanted to finish with their version of the Isley Brothers stomper "Twist and Shout," which they'd garlanded with stepped harmonies and played with wild abandon. However, John's voice was all but gone after a full day at the microphone, and the others weren't feeling much better.
According to Mark Lewisohn's book The Complete Beatles Recording Sessions, they decided to give it a whirl, with John stripping to the waist, gargling with milk and necking another couple of cough sweets before putting his guitar on.
This is what happened next:
Yes, that is someone from the band yelping with triumph right at the end there, and rightly so. A second take was suggested, and even begun, but it was clear John's voice would not be coming back, after having been treated so shabbily by its owner.
So that was 50 years ago. Today, BBC Radio 2 are staging a recreation of the day's recording, using contemporary performers like Mick Hucknall of Simply Red, and Kelly Jones of the Stereophonics (who you can see here, busking "I Saw Her Standing There" outside Abbey Road with Radio 2's Chris Evans:
It's also the day after a current British four-piece – Mumford and Sons – won a grammy for the very Beatley trick of taking American music (bluegrass), adding their British sensibilities and selling it back to the home country as if brand new.
And it's the day after the trailer was launched for the new One Direction movie 1D3D. And this is relevant too, because the Beatles weren't just the Mumford of their day, they were also One Direction and the Wanted… and Adele… and Ricky Gervais too.
Me? I'm spending the day eating cough sweets, but with far less productive a result.
Read More
Filed Under: