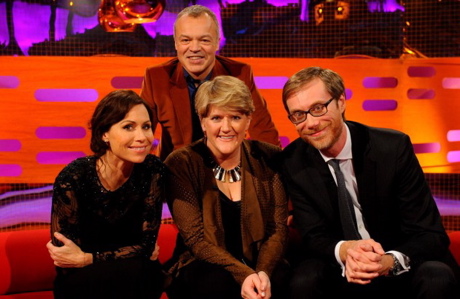 Actress Minnie Driver named names, as well as a number of adventurous sex acts, and it all had to do with horses on a recent episode of The Graham Norton Show.
Intrigued? It was actually more funny than juicy, and here's why: the actress was reading out proposed names for racehorses, all of which were naughty double entendres.
Video clips posted on YouTube have already attracted more than 300,000 hits.
Graham Norton's guests for the night included Driver, comic writer and actor Stephen Merchant (Extras and The Office), and TV host and journalist Clare Balding.
Balding, a former amateur jockey, was promoting her memoir, My Animals and Other Family, in which she touches on the rules that guide the naming of racehorses. After raising the topic, Norton handily pulled out a list of proposed names for racehorses that dirty-minded owners had tried unsuccessfully to sneak past the British Horseracing Authority. He asked Driver to read the rejected names out loud, which she did in between bursts of embarrassed laughter.
Here's the clip, which is most definitely NSW:
The full episode aired on BBC AMERICA Jan. 28.
Read More
Filed Under: