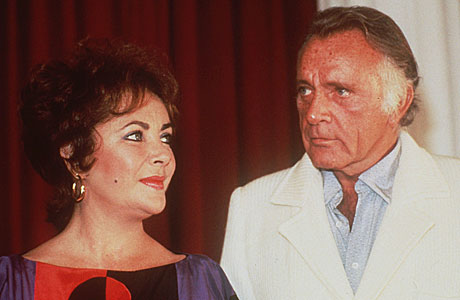 The last time anyone had the bright idea of recreating some of the more turbulent moments in the relationship between Elizabeth Taylor and Richard Burton, the results involved Lindsay Lohan, and were less than ecstatically received. So you'll forgive a certain amount of trepidation to the news that another plucky broadcaster has decided to step up and have a go at re-telling another part of this very public story.
However, there are signs that things are going to be different this time around, especially as the 90-minute biopic is being produced by the BBC, and the lead roles will be taken by Helena Bonham Carter and Dominic West.
Best of all, the biopic won't be telling the whole story of their time together, the 1974 divorce, the remarriage, the next divorce, and all that. It will focus on their 1983 stage run in New York, playing estranged lovers that meet again, in Noel Coward's Private Lives.
As Helena explained to the Daily Mail, this was a very different couple of superstars to the tempestuous couple that met on the set of Cleopatra, some twenty years earlier.
"Elizabeth was 51, still every inch a star, still beautiful and they still needed each other but this was professional. They were doing Noel Coward's 'Private Lives' on stage playing a couple who used to be married. People wondered if they were still in love and whether they'd be playing themselves or their characters in the play."
"It sounds familiar and has echoes of their own marriages and relationship. It's about this sliver of their lives together. They were huge stars and they'd never been on stage together before."
And as this is about those people in that situation, rather than bringing the dead back to life, Helena is adamant she won't be trying to impersonate Elizabeth per se: "I look nothing like her for a start, but it's about capturing the essence of them at a particular time. She was and continues to be a fascinating woman and she was a huge star. There's no one comparable around now."
Which just leaves one question: What do we think about young Dominic West playing the 58-year-old Richard Burton? Too young? Lacking in gravitas? Was Liam Neeson unavailable?
Read More
Filed Under: