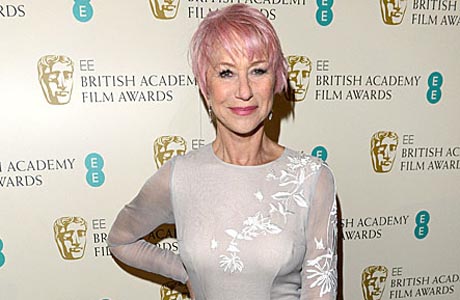 Dame Helen Mirren (Hitchcock) is confirmed to voice the role of the headmistress in the prequel to the animated flick Monsters Inc., reports BBC News.
The prequel, entitled Monsters University, focuses on the relationship between main characters Mike (Billy Crystal) and Sulley (John Goodman) when they met at university. Mirren will voice a dragon called Dean Hardscrabble.
When asked about signing on to the film she said she is "a great fan" of Pixar and is "honored and exhilarated" to take on the role.
The film is scheduled to hit U.S. theaters on June 21, 2013.
Prior to the casting news, Mirren donned a new look at the BAFTA Film Awards on Sunday evening (February 10) with a pink hairdo saying she was inspired by America's Next Top Model: British Invasion edition.
Who knew Mirren was a fan of the model scout show? She said, "I just thought it would be fun, you know," reports EntertainmentWise.com.
What do you think of Dame Mirren's fun side? 
Read More
Filed Under: