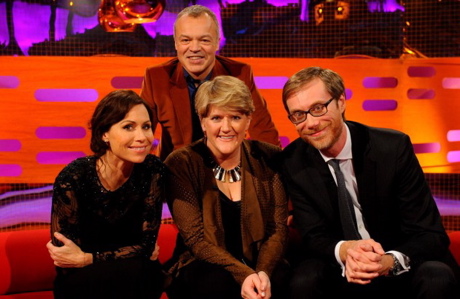 We all know that Graham Norton can talk. Give him any guest, no matter how taciturn they may be, and Graham will either entice them to reveal a dark secret, spin a rude fable, or just throw a few innuendos over their heads.
But until now, this power has never been used to do good works (unless being an entertaining chat show host counts as good works). However, on March 7, Graham is going to be hosting a special edition of his show, called Comic Relief's Big Chat, in which a huge cast of celebrities are machine-gunned with questions, coming from a variety of presenters (including Sir Terry Wogan, Frank Skinner and BBC Radio 1's Greg James and Nick Grimshaw), in order to break the world record for the most questions asked on a TV chat show.
So far, the celebs that have gamely signed up to be interrogated include: Martin Freeman, Ronnie Corbett, Jimmy Carr, Lee Mack, Keith Lemon, Sarah Millican, James Nesbitt, Warwick Davis, Russell Tovey, Elle Macpherson, Paddy McGuinness, Alex Jones, Steve Jones, Kirstie Allsopp, and celebrity chef Heston Blumenthal.
There will also be musical interludes from Example, Paloma Faith, Hurts and Laura Mvula.
Referring to previous charity record-breaking attempts, which have tended to be athletic in nature, Graham succinctly summed the situation up, to the Radio Times:
"David Walliams swam the Thames, John Bishop endured a week of hell and Eddie Izzard ran marathon after marathon after marathon. I am hoping to join this elite group of celebrity fundraisers by doing what I do best – sitting on my backside and talking."
All money raised from the attempt will go to Comic Relief.
Read More
Filed Under: