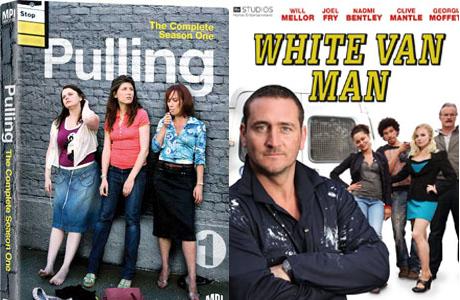 A handful of UK productions are being remade stateside and are either in pre-production or pilot stage. While we don't have clips of the new shows, we have a bit of an update on each, and want to take a peek at the originals. We know, we know … some shows just haven't worked out in the past but we believe these have a fighting chance!
1) Pulling
Three women in their 30s are living their lives with no apologies even if they're expected to have everything figured out by now. ABC will be spearheading the remake with funny girl June Diane Raphael (Happy Endings) and Mandy Moore (Tron: Uprising) having already been casted.
Newly single Donna isn't enjoying the pub scene. Her ex shows up and she can't hide how relieved she is. She doesn't want to drink beer and "have fun", she'd rather be at home.

2. White Van Man
Ollie, a man with plans, is forced to put his white collar dreams away and take over the family hardware business when his dad suffers a heart attack and decides to retire. He drives a white company van, hence the name of the show. The U.S. version has been adapted by ABC (we're seeing a pattern here ABC) renaming it Family Tools. Ollie goes by Jack in the U.S. adaptation, played by Kyle Bornheimer (Perfect Couples). JK Simmons (Spider-Man) plays Jack's father with Leah Remini (King of Queens) rounding out the cast as the helpful auntie. You can watch the trailer for the American version, here. 
Ollie's about to hop in the van with his bird but he's interrupted when stumbling upon a robbery of the local coffee shop. He decides to intervene.

Here's the trailer for the U.S. version.

3. The Tomorrow People
A science fiction show designed for children revolves around the next stage of human evolution, called homo superior, with children being born to human parents going through a "breaking out" process and becoming people of tomorrow with special abilities like telepathy, telekinesis and teleportation. American writer-producers Greg Berlanti (Green Lantern) and Julie Plec (Vampire Diaries) have acquired the U.S. rights and have commissioned a pilot with Phil Klemmer (Chuck) signed on as the writer.
A 10-year-old boy vanishes and reappears on a London bus a couple of seconds later, covered in seaweed. The wee one doesn't even know what the word "teleport" means when first hearing the term but,yep, he can do it.

4. Second Sight
Detective Chief Inspector Ross Tanner (Clive Owen) tries to hide the fact that he has a rare disease which is causing him to go blind. The U.S. adaptation, written by Michael Cuesta (Homeland), is set in New Orleans and has been picked up by CBS. Jason Lee (My Name is Earl) will take on the role originated by Owen.
5. About a Boy

Will Freeman (Hugh Grant) has way too much free time on his hands and finds himself at a single parent support group where he meets Fiona Brewer (Toni Collette) and accidentally befriends her son Marcus (Nicholas Hoult). The American version is set to be produced by NBC with Minnie Driver (The Riches; Good Will Hunting) taking on Collette's role, opposite David Walton (Happy Endings). The role of Marcus has yet to be announced. The script will be tackled by seasoned writer Jason Katims who has made successful film-to-TV adaptations like Friday Night Lights and Parenthood. He will produce the Brit-to-American adaption in this case.
Will is caught off guard when Marcus shows up at his door. Marcus threatens to "out" Will and tell everyone that he lied about having a child to meet single moms. Marcus agrees to keep his secret if Will goes out with his mum. The two really aren't suited for each other but a friendship develops between Will and his young friend
Which ones, if any, (hopefully all) will make it past pilot season?
Read More
Filed Under: