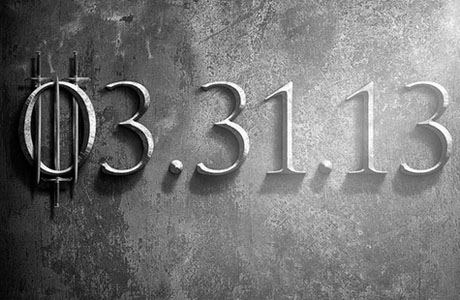 HBO is gearing up for the season three premiere of Game of Thrones (March 31) having just released the 60-second trailer, set to the haunting sound of MS MR's 'Bones' ballad with the first line bringing us back to the civil war in Westeros and Essos, singing, "Pick up the bones but leave the sole alone."
The 60-second trailer is filled with familiar faces like Tyrion Lannister (Peter Dinklage), Catelyn Stark (Michelle Fairley), Robb Stark (Richard Madden), Bran Stark (Isaac Hempstead-Wright), Jon Snow (Kit Harrington), Joffrey Baratheon (Jack Gleeson), Cersei Lannister (Lena Headey) and Daenerys Targaryen (Emilia Clarke) amongst others.
As well, the clip is filled with predictors like, "Death is coming for everyone and everything," "There is a beast in every man and it stirs when you put a sword in his hand," "There is a darkness that will swallow the dawn," "Show them how it feels to lose what they love," "Everyone is mine to torment," "The revenge that you want will be yours in time."
Do you see a theme here? Everyone wants revenge for his or her own reasons. Watch the trailer to see who says what.
Game of Thrones, Season Three Trailer
Who do you want to see take a seat in the Iron Throne? 
Read More
Filed Under: