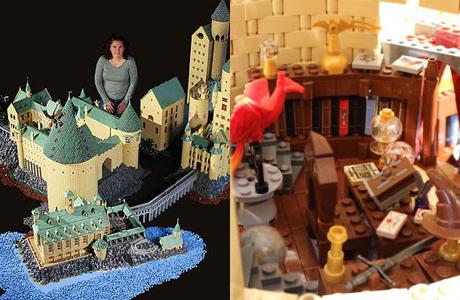 Seattle-based artist Alice Finch has spent a year building a 400,00 Lego brick replica of JK Rowling's Hogwarts School of Witchcraft and Wizardry, reports RadioTimes.com.
She not only completed the massive exterior but went above and beyond, providing the most exact details on the interior including but not limited to the scene when Harry Potter is in the infirmary to the young wizards in their classroom.
Finch poses in the above photo with her model, giving us a sense of scale. She said it's difficult to keep track of the exact number of legos used but she guesstimates it at 400,000. Lego has its own official Hogwarts set which uses 1,290 blocks, to give you a comparison.
If you'd like to see more exterior and interior photos, please go to RadioTimes.com.
Finch's model won both Best in Show and the People's Choice award at the Lego convention BrickCon 2012, and the artist explained on her Flickr page that: "It is designed to be architecturally accurate and completely playable. It breaks into sections that pack into 35 large flat boxes or shelves," reports RadioTimes.com.
This accomplishment is extremely impressive and at the same time extremely difficult to wrap our minds around it. Well, we'll leave it to the experts to tackle these sorts of projects. Well done!
Do you want to play with this epic Hogwarts model?
Read More
Filed Under: