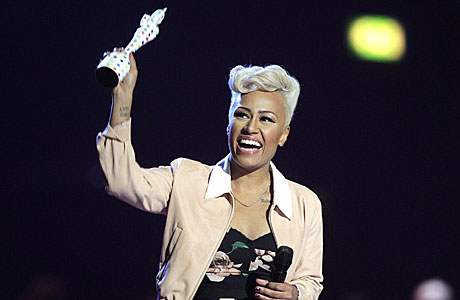 The Brit Awards 2013 have just finished, and it has been, as it always is, a rum do. First, there was Muse, a mighty noise and a whole wall of Gothic orchestra behind them. Then Emeli Sande won an award, her first, for being the best British female solo artist.
Then Robbie Williams came out, and his entire band performed as if they were the set of the video game Q*Bert (as seen on Wreck-It Ralph), only carrying tubas and dancing about. Shortly after this, Mumford & Sons won best British group, and made a speech about being proud of being British.
Then Ben Howard won the British breakthrough award. If you don't know who Ben Howard is, he's a young man from Devon who sings like he can't articulate consonants. Something like this:
He also accepts awards like an embarrassed teenager.
So the tally so far is one to Emeli, one to Ben, one to the Mumfies.
Then Justin Timberlake came out and did a song, which also featured some tuba players, and he wore a big bow tie like the Doctor, if the Doctor was also Frank Sinatra.
And then, Ben Howard won another award! Best British male this time. And his speech was so bad that he had to apologize for it while still making it. That was fun, and quite overshadowed the Critics' Choice award that they had to give to Tom Odell for doing nothing (yet).
To consolidate the audience after these seismic shocks, the international female award was given to Lana Del Rey, who referred to her life as being "a work of art." That's an amazing thing to say. Then Coldplay won the best live band award, and no one could really think of anything to say about that.
Luckily, things perked up at this point. Adele won the best single award for "Skyfall," proving that Bond things can win trophies after all, and her acceptance speech (pre-recorded, but still entertaining), was not cut short, in tribute to her mighty achievement.
Then the Black Keys won best international group, and all the One Direction fans had to suddenly Google "the Black Keys." And they didn't even have a pre-recorded speech. Frank Ocean won best international male though, he definitely deserved that, and his speech was good too.
And then, there was a weird award. Almost as if you couldn't have a Brits and not give One Direction something, a new category suddenly hove into view, called Global Success. And they won it. Well done them.
Which just left the best album category. It could've been Mumford, it could have been Alt-J, but in the end (and probably a wise choice, given that she was due to close the show), it went to Emeli Sande's Our Version of Events.
So, two awards each for Emeli and Ben, and one entirely made-up one so that One Direction wouldn't feel snubbed. The entertainment business is a curious place, sometimes.
Read More
Filed Under: