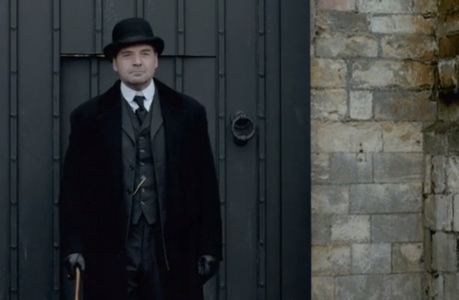 Last night's double-length episode of Downton Abbey neatly tied up with ribbons and bows several major storylines that had been building all season. It also laid the groundwork for a potential plot complication or two to come.
This penultimate episode, to be followed next Sunday by the two-hour, season-ending Christmas special, gave nearly everyone at Downton Abbey, both upstairs and downstairs, a happy ending (though not the massage parlor kind), at least for now.
As the episode opens, the wrongfully imprisoned John Bates (Brendan Coyle) is finally released from the hoosegow (after an unnecessarily complicated and barely comprehensible plot to clear his name that dragged out all season). His ever-loving wife, lady's maid Anna (Joanne Froggatt), is there to meet him.
Back at Downton Abbey, all the residents, upstairs and down, are thrilled to have Bates back. Everyone except for scowling Thomas Barrow (Rob James-Collier), who rightfully fears that Bates will be getting his old job back as Lord Crawley's valet, a post to which Thomas had ascended in Bates's absence.
Bates and Anna move into their new home, a somewhat decrepit cottage on the estate. Thrilled at the prospect of actually living together for the first time in their married life, they set about sprucing up their cozy love nest with patching and paint.
Thomas finally does more than merely cast longing looks at Jimmy Kent (Ed Speleers), the new footman. Mistakenly believing that his advances will be welcomed, Thomas attempts to kiss a sleeping Jimmy in the footman's bedroom. He does so only because lady's maid Sarah O'Brien (Siobhan Finneran) has deliberately misled her former ally-turned-nemesis into thinking that Jimmy is sweet on him, too.
"Alfred says he's always going on about you. Silly sloppy stuff," she coos. (Alfred, played by Matt Milne, is her nephew and also a footman.)
Jimmy takes umbrage at Thomas's advances. He swears to Alfred, who has walked in and seen the two men in an apparent embrace that it's not what it looks like. Jimmy tells Thomas, "There's nothing between us, except my fist if you don't get out." Thomas realizes the sad truth: O'Brien has played him.
It all turns into a major cause célèbre. Jimmy, after being egged on by O'Brien, demands that Mr. Carson (Jim Carter), the butler, fire Thomas without a reference, which will render it impossible for Thomas to find a new position.
It has been busy upstairs as well. Edith (Laura Carmichael) tells Violet, the Dowager Countess (Maggie Smith), that she's taking her advice and going to London to talk to the editor who wants the middle Crawley daughter to write a weekly newspaper column. "I meant run a local charity or paint water colors or something," says Violet.
In London, Edith's editor, Michael Gregson (Charles Edwards), turns out to be an attractive, articulate fellow who makes eyes at her over a meal. "You look very pretty today. I'm not sure how professional it is of me to point that out," he says.
"Well, it's jolly nice of you," responds Edith, who isn't used to men complimenting her.
Long story short: Edith does a little digging into Gregson's personal life and discovers he's – wait for it – already married. She confronts him. Gregson owns up but tells her that – think Mr. Rochester – his once beloved wife is now a nut job who's locked up in an asylum. "I'm tied for the rest of my life to a madwoman who doesn't even know me," he tells Edith. She looks sympathetic. Could it be that we can look forward to Edith actually losing her virginity in season four?
Matthew and Mary decide to get creative about procreation. No, this doesn't mean that they present each other with gilt-bound copies of the Kama Sutra. Rather, each covertly hies off to a fancy fertility specialist in London, only to end up encountering each other at the doctor's office. Over lunch at a London restaurant, Mary tells hubby that she is the one with the problem. She has had a small operation – we never learn exactly what the surgery was – to fix, presumably, her female plumbing. This is why, earlier, she'd begged off sex with Matthew for the past couple weeks. "I thought you had gone off me," says a relieved Matthew. Mary assures him the doctor says she'll now be preggers within six months.
Isobel (Penelope Wilton) and Violet engage in their usual verbal jousting, especially once Violet takes steps to find a new posting for Ethel (Amy Nuttall), the former Downton maid-turned-unwed-mother-turned-prostitute-turned-Isobel's cook. Violet reckons Ethel will be happier far away from the local village, where she remains permanently stigmatized because of her days on her back. Eventually, all ends happily when Ethel enthusiastically accepts a new job as a cook at a home near to where her young, fatherless son is living with his upper-class paternal grandparents. There, she'll be able occasionally to see her little boy, which is as close to a sunny ending as poor unfortunate Ethel is likely to get.
Tom Branson (Allen Leech), the Irish chauffeur turned Crawley son-in-law, is planning a christening for little Sybil, the infant daughter named after his recently deceased wife, the youngest of the Crawley sisters. He's also contemplating a move to Liverpool to join his brother in running a car repair service; he and the baby would live in rooms above the garage. All the Crawleys look horrified at this notion. As for the christening, Robert says he won't be there. "Tom doesn't want me and I wouldn't know what to do, all that crossing and bobbing up and down. I went to a Mass once in Rome. It was more like a gymnastic display," he says, laughing at his own joke, though no one else does.
Tom tells Robert that he wants him at the christening and so would Sybil. "She loved you with all her heart and she would want you there," Tom says.
"Can you argue with that?" asks Cora (Elizabeth McGovern), looking beseechingly at her husband. Robert can't.
The first half of the episode ends with the family assembled for the christening of Sybie, as Cora has taken to calling her infant granddaughter. Afterward, outside the church, Robert and Violet pose for a photo with Sybie and the priest joins them. Robert looks distinctly ill at ease. "Are you afraid you'll be converted?" Cora teases.
Much of the episode's second half is taken up with a seemingly pointless subplot involving a newly introduced teenage character, Lady Rose MacClare (Lily James). A bright young thing, she has been shipped off to stay with Violet, who's her great-aunt, while her parents were away. She heads to London at the first excuse, where she sneaks off to see – that's a euphemism – a married man. Edith and Matthew, along with Aunt Rosamund (Samantha Bond), who is Robert's sister, must go charging into a jazz club to rescue her, very much against her wishes. Violet later gets wind of all this and makes plans to send Rose packing to a distant country house with an elderly chaperone.
"I won't be held a prisoner forever," pouts Rose.
"No, one day you'll be older and out of our power — but not yet!" says Violet.
Thomas's future continues to look bleak; he is to lose his job and have no reference. Mrs. Hughes (Phyllis Logan), proving herself decidedly broad-minded for the times, provides Thomas with a sympathetic ear and then argues on his behalf to Mr. Carson.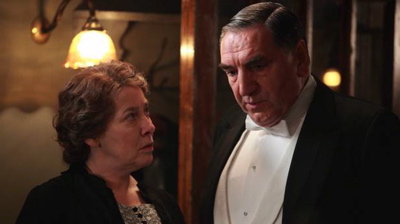 Bates, much to his own surprise, also goes to bat for Thomas, though the two men have long disliked each other. Bates fills Robert in on what's been going on below stairs. "It's not as if we didn't all know about Barrow," says Robert. "I mean, if I'd shouted blue murder every time some one tried to kiss me at Eton, I've have gone hoarse in a month." He promises Bates that he will sort out Thomas's situation.
Bates persuades Thomas to let him make O'Brien set things right. All it takes is Bates whispering three words, supplied by Thomas, into O'Brien's ear: "Her Ladyship's soap." (If you missed season one, O'Brien caused a pregnant Cora to miscarry by purposely leaving soap where the Countess would slip on it, a nasty secret known only to O'Brien and Thomas.) Bates whispers in O'Brien's ear and she does a rapid about-face.
True to his word, Robert puts all to right downstairs. As he observes with presciently p.c. instincts (this is the same man who has been merrily bashing Catholics, prostitutes and political radicals for several episodes), "Thomas does not choose to be the way he is and, in the end, what harm was really done?" Thanks to Robert,  not only will Thomas be staying at Downton, but he's being promoted to the job of under-butler, making him Bates's superior.
The brouhaha over Matthew's vision for Downton's future, which has been brewing all season, finally comes to a boil. When Matthew presents his plans for putting the estate on a firmer economic footing, Robert and his longtime steward take offense, believing the younger man is accusing them of years of mismanagement. (Matthew should; they have mismanaged Downton woefully.) The steward quits and Robert throws a temper tantrum or two and does some serious sulking. He is finally persuaded to get with Matthew's new business program when Tom, whom Robert has asked to stay on at Downton as the new steward (Violet came up with the idea), tells him that they all three have valuable contributions to make and will be stronger for pooling their knowledge and resources.
Now comes the climactic cricket game between Downton Abbey's males, both from upstairs and downstairs, and a team representing the village. It's happy ending time, even if we don't find out which team wins the game though, I think, Downton Abbey did.
During a break in the match, Tom tells Cora he has decided to stay on at Downton as the steward, meaning baby Sybie will grow up where her mother did. Cora gives him one of her patented benevolent smiles.
Matthew tells Mary the good news that her father is coming around on the plan to resuscitate Downton. "So, we'll be building a new kingdom while we make our little prince," says Mary.
"I'm looking forward to both enormously," a cheeky Matthew replies.
Robert, Matthew and Tom, finally in sync, head back to play cricket after the break. "Let's give it a go and see what the future brings," says Robert, talking as much about Downton as the cricket match.
Tom, who has never played cricket before, makes a crucial catch and the three men celebrate together as the episode ends.
The Dowager Duchess's best line of the night: After Edith announces that she is to become a journalist, Violet says, "Since we have a country solicitor [Matthew] and a car mechanic [Tom], it was only a matter of time."
————————-
How did you like this episode?
————————-
Read More
Filed Under: