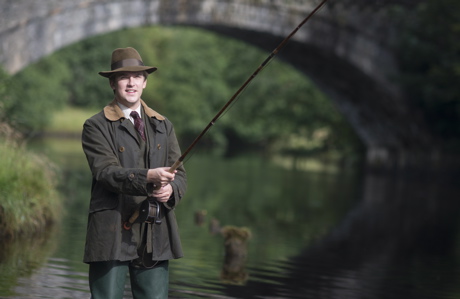 It's all over except for the crying. And the crying is going to go on for a while.  That's because Downtown Abbey ended its third season last night with – get out your hankies, again – a car crash in which heartthrob Matthew Crawley (Dan Stevens) died.
How will Lady Mary (Michelle Dockery) or any of the rest of us ever recover?
Matthew's death occurred because Stevens chose not to renew his contract and the powers that be decided against recasting. For an interview with the actor on why he quit, click here.
In the U.K., last night's episode aired on the evening of Christmas Day. You have to figure that, with Matthew's surprise demise, it wasn't the merriest way to end the holiday for millions of British viewers.
The 90-minute finale begins with servants at Downton loading trunks onto a wagon. A year has passed since the last episode, a title informs viewers. The Crawleys are headed north to the Scottish Highlands to Duneagle Castle, the home of Hugh "Shrimpy" MacClare and wife Susan (they're the Marquess and Marchioness of Flintshire, for anyone who cares about such titles). They're the bickering parents of Rose (Lily James), the misbehaving, young grandniece of Violet Crawley (Maggie Smith); we met Rose in the previous episode.
Also headed to Scotland from the downstairs staff are John and Anna Bates (Brendan Coyle and Joanne Froggatt), as well as Sarah O'Brien (Siobhan Finneran) and Joseph Molesley (Kevin Doyle). God forbid that Robert and Cora or Mary and Matthew should have to lay out their clothes, dress themselves or fix their own hair.
"Feels like a holiday, doesn't it?" a cheerful Anna says.
"Don't worry. It won't feel like a holiday once we get there," responds O'Brien, ever her sour self.
In short order, viewers learn that in past year: Mary has become pregnant and is fast closing in on her due date; Lady Edith (Laura Carmichael) has continued seeing Michael Gregson (Charles Edwards), her London editor with the wife who's in the nuthouse; and chauffer-turned-son-in-law Tom Branson (Allen Leech) is settling in nicely as the business manager at Downton Abbey with daughter Sybie, who's is now a cute 1-year old.
Downstairs, first footman Jimmy Kent (Ed Speleers) is still giving under butler Thomas Barrow (Rob James-Collier) the cold shoulder, never having forgiven the older man for making a pass at him. Assistant cook Daisy Mason (Sophie McShera) and kitchen maid Ivy Stuart (Cara Theobold) are now best buds and there's a new housemaid, Edna Braithwaite (MyAnna Buring, of BBC America's Ripper Street), who's making eyes at Tom, much to Mrs. Hughes' (Phyllis Logan) disapproval. And Mrs. Patmore (Lesley Nicol) may have a new suitor. Jos Tufton (John Henshaw), a burly gent who has taken over as shopkeeper at the village grocery, takes one spoonful of the cook's vichyssoise and seemingly is immediately smitten.
At Duneagle Castle, a bagpiper serenades the new arrivals before dinner. "I'm glad to see the old ways being maintained," Robert says. When the piper begins playing at eight the next morning as a sort of human alarm clock, Robert moans, "Oh, bloody hell" and pulls his pillow over his head.
"Welcome to the Highlands," says an amused Cora from her side of the bed.
It's clear to the visiting Crawleys that there's major tension between Shrimpy (Peter Egan) and Susan (Phoebe Nicholls) and between Susan and Rose. The MacClares are constantly sniping at each other, as are mother and daughter. Shrimpy is to be posted overseas soon for a government job and Susan is dreading the prospect.
"It'll be filthy and dirty and the food will be awful and there'll be no one to talk to within 100 square miles," she kvetches to Violet.
"Sounds like a week with my mother-in-law," cracks Violet, who is proving in fine form during her visit to Duneagle.
Edith's beau Michael turns up, claiming that he just happened to be on a sketching holiday nearby. Mary goes into full bitch mode. "What's he doing here?" she sniffs. Cora and Matthew both tell her to be nice.
"Don't dislike him before you know him. That's the hallmark of our parents' generation and I forbid it," Matthew mockingly scolds.
The object of Mary's scorn tells Edith he's hoping that if her family gets to know him, they might like him. "I'm in love with you. I want you to be in my life and I want to be in yours," Michael informs her.
After Cora and Violet observe Susan and Rose verbally clawing at each other, Cora tells Violet that it's not always easy for mothers and daughters. She obviously is remembering her own occasional differences with the strong-willed Sybil, her dead daughter.
"We all miss her, every single day," Violet says, showing her warm side.
Shrimpy announces that he's to be posted to Bombay. Violet urges him to let Rose stay behind at Downton rather than taking her to India, "Unless you want her married to a third rate colonial with bad clothes and bad teeth."
Back at Downton, all the servants head into the village to spend the day at a fair. At Edna's urging, Tom joins them. Only Mr. Carson (Jim Carter) remains behind, having told Mrs. Hughes that the staff won't be able to enjoy themselves if he's there. Also frolicking at the fair are Isobel Crawley (Penelope Wilton) and Dr. Clarkson (David Robb), the kindly local physician. These two midlifers seem to be on the brink of a possible autumnal relationship, though Isobel firmly puts the kibosh on any talk of marriage when the good doctor gingerly broaches the topic.
The big event at the fair is a tug of war contest pitting the men of Downton, including Tom, against a rival team. Downton wins. Daisy, too, exhibits a winner's touch, earning a gold sovereign at the ring toss booth. Alfred checks out a food stall and declares his future lies more in that line than in being a footman. Mrs. Hughes keeps her eyes trained on Mrs. Patmore's suitor. She doesn't like what she sees as Mr. Tufton steals a pat here and a kiss there from various ladies. Toward the end of the day, an inebriated Jimmy is jumped by a trio of men. They start beating him up when Thomas, who has been following Jimmy, comes to his rescue. As the thugs set upon Thomas, Jimmy runs away.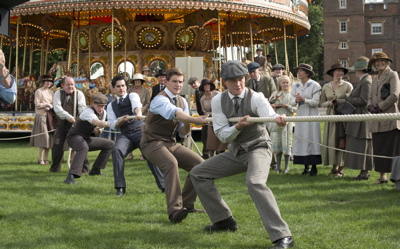 Back in Scotland, Matthew and Michael get chummy, enough so that Edith's beau confesses to Matthew about his nutjob wife. Matthew is sympathetic but tells Michael he must end the relationship to save Edith's good name and reputation.
Michael later does try to be noble and break it off with Edith but she stops him. "This is not our last evening," she says, explaining that she, too, has come to realize that she loves him. (Now she can change her Facebook status to: "It's complicated.")
Back at Downton after the fair, Mrs. Hughes breaks it to Mrs. Patmore that Mr. Tufton is letch. Mrs. Patmore is more relieved than angry. Dissolving into laughter, she says, "It was the cooking he was after, and not me."
Upstairs, Edna barges in on Tom shirtless, suggests that they have lunch together the next day at the village pub, and then kisses him. Tom seems puzzled.
There's a big dance in full swing at Duneagle, with both aristos and servants taking part. Robert and Shrimpy take refuge in a billiards room, where Shrimpy confides that his marriage is in tatters and that he's about to lose Duneagle. "I sat on my hands while the money drained away," Shrimpy says. The irony of the situation is not lost on Robert, who himself would have lost Downton the previous year if not for Matthew's money and business smarts.
Back at the party, Molesley gets massively drunk and loudly whoops it up. An amused Robert says to his mother, "They do say there's a wild man in all of us."
Violet responds archly, "If only he would stay inside."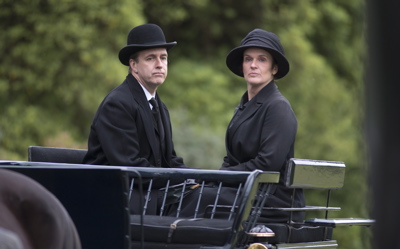 After dancing briefly, Mary tells Matthew she thinks she might have overdone it and wants to head home to Downton. She and Anna depart the next day while Matthew, despite his protestations, remains behind at Mary's behest.  When she gets off the train, Mary goes straight to the hospital. The next Downton heir, it seems, is in no mood to wait.
Upon hearing the news, the rest of the Crawley clan makes plans to return pronto to Downton. They'll be seeing Rose again soon as it has been decided that she will bunk at Downton while her parents are in India. (Count on her leading Cora and Robert on a merry chase next season.)
Before the family arrives back at Downton, Mrs. Hughes fires Edna for attempting to cozy up to Tom. "There are rules to this way of life and if you're not prepared to live by them, then it's not the way of life for you," Mrs. Hughes tells the departing maid.
Jimmy visits a recuperating Thomas in his room. The younger man apologizes for having run away at the fair and thanks Thomas for helping him. They agree to be friends, just not that kind.
Matthew walks into Mary's hospital room. "Say hello to your son and heir," she tells him, holding aloft their baby son (who has a thick head of brown hair).
"You're going to be a wonderful mother," Matthew tells her.
"How do you know?" she asks.
"Because you're such a wonderful woman," he says.  "I fall more in love with you every day that passes."
They kiss.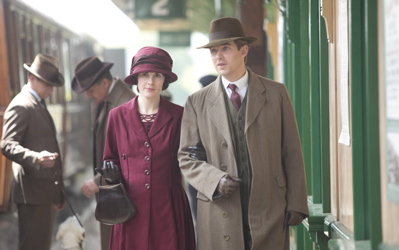 The elated new father drives back toward Downton in an open roadster, the sun shining down on his windswept blond locks. Suddenly, we see – though Matthew doesn't – that there's a truck coming up the hill from the opposite direction.
Back at Downton, Edith and Tom compare notes. "I've been on a bit of a learning curve," Tom tells her.
"Me, too. And it isn't over yet," says Edith.
They join Robert, Cora and Violet in the drawing room. Robert says how pleased he is about the baby, how rosy everything's looking and wonders what he's done to deserve all this good fortune. Violet says teasingly, "I agree, but we don't always get our just deserts."
Cut to unjust deserts: Matthew's car has veered off the road and overturned and he's pinned beneath it. His eyes are open and staring vacantly and, if anyone is still clinging to the hope that he might be alive, we see blood pouring from his ear. Matthew most definitely will not be back for Season 4.
Blissfully ignorant of her husband's death, Mary sits in her hospital bed, holding her son. As the camera moves in on mother and child, the new Crawley heir reaches up with one chubby hand to grip Mary's thumb. The music swells and the screen goes dark.
Just ten more months to go until season four.
Best line by the Dowager Countess: When Rose's mother labels her daughter a slut, Violet says in faux shock, "Goodness, that's not a word one often hears among the heathers."
———————————–
What's your reaction to Matthew's death?
———————————–
Read More
Filed Under: