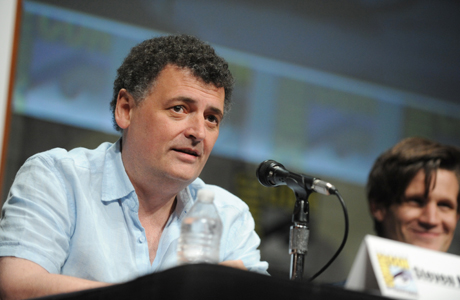 So far, we know the premiere date (March 30 on BBC AMERICA), the writers, and many of the upcoming guest stars for Doctor Who Season 7, Part 2. But beyond what we can gather from the "Coming Soon" teaser that aired after the Christmas special, we remain in the dark about major story details. But in his appealingly cryptic way, lead writer Steven Moffat offers us a spoiler-free riddle as an appetizer to the upcoming episodes.
Speaking to the Radio Times, Moffat says, "We'll be up in the air, we're under the water, we're on a fantastic alien planet, we're back in time, we're forward in time, and the Doctor's greatest secret is in jeopardy."
It sounds like Moffat's raising the stakes for the Doctor in Season 7, Part 2. But speaking of rising stakes, the world awaits news on what Moffat will do for the 50th anniversary this November. The Doctor Who scribe isn't anxiety-ridden over the high expectations. "You can't do this job if you're nervous all the time," he told RT. "So, seriously, I'm mostly excited, a little bit nervous and aware of trying not to let people down."
• Last week, we revealed that BBC AMERICA would co-produce and air An Adventure in Space and Time, the Mark Gatiss-penned film dramatizing the early days of Doctor Who, as part of its celebrations for this year's 50th anniversary of the franchise. Harry Potter's David Bradley (who previously appeared in "Dinosaurs on a Spaceship") will play actor William Hartnell, who portrayed the First Doctor, while Call the Midwife star Jessica Raine will play legendary producer Verity Lambert. Brian Cox will play Sydney Newman, BBC's then-Head of Drama, and Sacha Dhawan is set to portray Waris Hussein, director of Doctor Who's very first episode.
Gatiss told the Radio Times that the film is "mostly the personal journey of William Hartnell and his relationship with Verity Lambert. Eventually he had to leave, and none of us like to find that we are replaceable."
• Frequent Doctor Who actor Bernard Horsfall, who played Gulliver, a Timelord, Taron, and Chancellor Goth in the classic series, died at 82 last Tuesday (January 29), reports the Herts & Essex Observer. Here's a montage of his appearances via YouTube user catamongthepigeons6.
• We mentioned earlier that the Doctor's "biggest secret" would be in jeopardy in the upcoming Season 7 episodes of the show. Now, our Time Lord's "crucial weakness" is on display in the new IDW comic, Doctor Who: The Prisoners of Time. io9 has a cover and some panels from the first installment.
• Here's something to gush about: photographer Candice Benjamin and cinematographer Kiera Faye have put together this captivating Doctor Who-inspired wedding photo shoot under the theme "Through All of Time and Space." The décor contains lovely, subtle Whovian touches and lots of TARDIS blue. Watch the video. It's guaranteed to have you planning those nuptials, even if you don't have a companion in mind. (via Geeksugar)
• Artist Russell Walks has created this Doctor Who perpetual calendar that allows one to find the day of the week of a certain date in any year. (found via Kasterborous)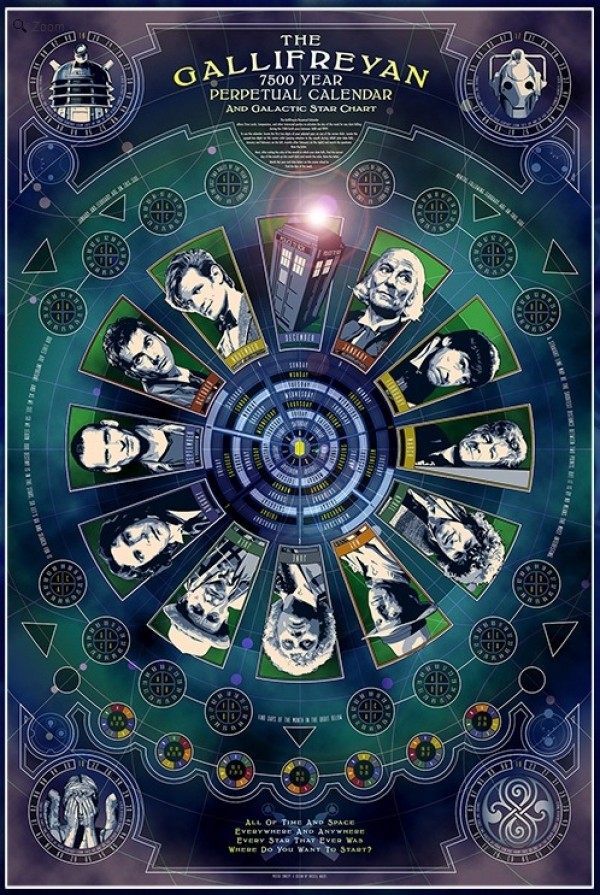 • YouTube user BrianRimmer has compiled all of the Doctor Who themes, classic and modern, which may give you an appreciation of how well the current theme references the ones that came before it:
• Finally: the Doctor Who on BBC AMERICA Twitter engaged in a bit of Whovian humor during the power outage at Sunday's Super Bowl.
Read More
Filed Under: