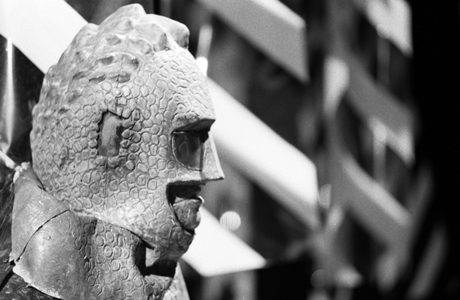 …because the Ice Warriors are coming back!
In an interview with SFX, Doctor Who executive producer Caro Skinner has revealed that the Cybermen are not the only classic Whovian villains to be making a reappearance in the second half of Season Seven, there's an Ice Warrior on the way too, in an unexpected (and very claustrophobic) location.
Caro said: "We've got the most fantastic episode by Mark Gatiss, where we are bringing back the Ice Warrior… on a submarine! It's a really wonderful kind of 'bunker' episode, and a classic monster which Mark has brought his own inimitable twist to."
Note: If you're not sure what the history of the Ice Warriors is, read our Rogues Gallery summation.
Caro continued: "In the mix of stories that we were planning for this year it felt as if doing something very bold with a monster that hadn't been seen for a while would be really cool. Mark is an enormous fan of the Ice Warrior stories and came up with the idea. The sense of a monster of that scale and that size trapped in a really small, contained environment such as a submarine was a really brilliant story to be able to tell. And obviously we've had a huge amount of fun going back to the traditional designs and recreating them, bringing the Ice Warriors back to life again.
"They've got really scary voices as well. I spent quite a lot of time on set trying to hiss like an Ice Warrior…"
Like this, y'mean?
Here's what else is going on in space and time this week:
• Matt Smith has landed his first stateside leading role in Ryan Gosling's directorial debut, How To Catch A Monster, which begins filming later this spring. More details here.
• Some news for the upcoming 50th celebrations: "As part of the BBC's blockbuster celebrations to mark the Doctor turning 50, fans will be able to see the Time Lord and his adventures like never before – in 3D!
"To be broadcast using some of the BBC's HD capacity, Steven Moffat, lead writer and executive producer, said: 'It's about time. Technology has finally caught up with Doctor Who and your television is now bigger on the inside. A whole new dimension of adventure for the Doctor to explore.'"
• Speaking of Mr. Gatiss, who is currently working on An Adventure in Space and Time, the dramatized account of the beginning of Doctor Who, he recently put this enigmatic photo up on his twitter feed, which has had a remarkably Pavlovian response from Whovians worldwide:
The other production news we have so far is that the newcomer Claudia Grant has been chosen to join Jessica Raine (as Verity Lambert) and David Bradley (as William Hartnell). She will play Carole Ann Ford, who was the Doctor's granddaughter Susan in the early episodes. Jamie Glover and Jemma Powell will play William Russell (Ian) and Jacqueline Hill (Barbara) respectively.
• BBC AMERICA's upcoming Doctors Revisited special takes on the Second Doctor (played by Patrick Troughton) and features the classic episode "Tomb of the Cybermen." The official Doctor Who YouTube channel has been posting clips from this episode, including this heart-to-heart(s) between the Doctor and Victoria Waterfield:
Oh, and this frightful scene:
The Doctors Revisited: The Second Doctor premieres Sunday, February 24 at 8/7c on BBC AMERICA.
• Now, who fancies owning a TARDIS plaque like this?
Or possibly a Dalek blaster like this?
These items are the handiwork of Nick Robatto, one of Doctor Who's longest serving prop-makers, and he's created Rubbertoe Replicas in order to make and sell replica props and Whovian memorabilia with a similar attention to detail. Find out more here.
• Of course, if you want to display your Classic Whovian credentials while out and about, you may prefer one of these T-shirts, from Dark Bunny Tees:
• But, let's end with a bit of crafting, shall we? Who wants to make their very own Strax out of card? Well thanks to the peculiar genius of CyberDrone over at Deviant Art, you can. He's done all sorts of Whovian flatpack designs, but it's the Sontaran butler that we're most fond of. Click on the image to go to the site:
And that's us for the week. TTFN!
Read More
Filed Under: