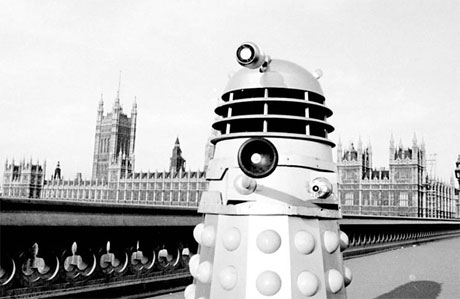 There's really only one Whovian delight on everyone's minds this week, and that's BBC Cymru Wales and BBC AMERICA's An Adventure in Space and Time, the Mark Gatiss dramatization of the early days of Doctor Who, starring David Bradley as William Hartnell, and Call The Midwife's Jessica Raine as the show's producer Verity Lambert. The drama premieres later this year on BBC AMERICA.
On Sunday (February 17), this video appeared, showing Mark and the crew recreating an iconic scene from The Dalek Invasion of Earth on Westminster Bridge.
Meanwhile, the Radio Times have an exclusive picture of David Bradley playing William Hartnell, alongside Lesley Manville as his wife Heather. 
And as well as running around London with a gang of Daleks, Mark has been talking up his League of Gentlemen chum Reece Shearsmith, who will be playing the part of Second Doctor Patrick Troughton. He told the Mirror:
"I first asked Reece 12 years ago when I started thinking about this project.
"We were in the midst of League of Gentlemen and I just remember thinking, if anyone plays Patrick Troughton, it should be Reece. Like the Second Doctor, he's small, saturnine and a comic genius. The complete package. He thought it was a fantastic idea and I've kind of nurtured it all this time."
And Doctor Who Exec Producer Caro Skinner has been explaining to Radio Times why it's such a big deal to shoot the drama in BBC Television Centre, where the classic Whos were originally filmed. An Adventure… will be one of the last productions to be filmed there before the site is redeveloped:
"As the BBC moves out of TV Centre, we are moving the cast and crew for An Adventure in Space and Time in! It's a fantastic opportunity to film this momentous story in the actual location – a little bit of television history."
Here's what's going on in space and time this week:
• As we're discussing that Dalek invasion, how well do you think you'd hold up if such a thing was ever to happen? Take our personality quiz and find out…
• The BBC America Shop Facebook page has launched an epic Doctor Who giveaway. All you need to do is like the page and you can enter the competition to win: a TARDIS teapot, Doctor Who Yahtzee, a sonic screwdriver universal remote control, and a union flag TARDIS T-shirt.
• The long-lost part four of the First Doctor adventure The Tenth Planet — the story that not only introduces the Cybermen, but contains the First Doctor's regeneration into the Second Doctor — is being recreated using an animation technique, so that the entire story can finally be issued on DVD. The first three episodes are safe, but only the soundtrack, and the moment of regeneration have survived, so the rest of that final episode is being put together using a technique called Thetamation. The DVD will come out later this year, but you can see some work-in-progress stills here.
• Radio Times announced that they are giving away their past eight Doctor Who covers as postcards in their magazine.
• The trouble with mash-up videos, where you're trying to combine elements of Doctor Who with, say bits of Sherlock and other bits of Supernatural, is that it's hard to get the preexisting footage to tally up properly. Enter YouTuber  Josh Snares with a cunning workaround:
• Big Finish have released this splendid trailer for their forthcoming multi-Doctor audio book The Light At The End:
• And while we're on literary matters, the BBC announced three new books featuring the Eleventh Doctor — The Dalek Generation and Plague of the Cybermen — and one with his new companion Clara — Shroud of Sorrow. They'll be released on April 11.
• On the other hand, when it comes to musical mash-ups, it's a lot easier to shoehorn stuff together, as this remix of Stefano's "I'm On A Roll" serves to prove. Ringing any bells?
Want to draw the Doctor? Ioana Ruth shows how she does it, creating a Fourth, Tenth and Eleventh, and proving that sometimes it's the hair that maketh the caricature: 
http://www.youtube.com/watch?v=vjAolMElw50
And finally, because we love to go out dancing (and this is clearly a massive thing right now), here are three "Harlem Shake" videos that feature Doctor Who. Three!
Live Action Harlem Shake:
Stop Motion Harlem Shake:
And Cartoon Harlem Shake:
TTFN!
Read More
Filed Under: