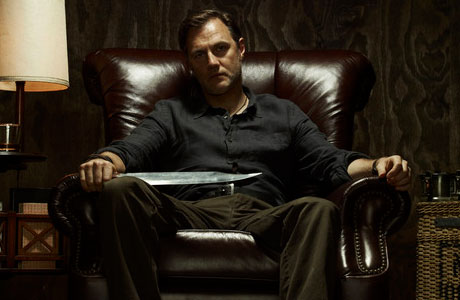 We live in tough times, financially, and this often forces dramatists to think in one of two opposing directions: reflection or escape. You either imagine fantastic realms in which there is no global recession or you show the effects of the times head on, without flinching. Downton Abbey or Breaking Bad, these are your choices.
One actor who would has tossed his hat firmly into the social realism ring (or at least, he would do if wearing a hat and throwing it at a ring wasn't a fairly fantastical thing to do), is David Morrissey.
In an interview in the current edition of the Radio Times, David claims to have had enough of costume dramas set in the reassuring world of the past – such as Our Mutual Friend and Sense and Sensibility, starring David Morrissey – and would far prefer something a bit more political. When asked what he'd do as a channel controller, he replied:  "I'd commission less period drama. The next ten years are going to be very challenging and that needs to be reflected on our screens. My taste is always about what's happening to real people, right now."
Although, oddly, he doesn't like real people when they're trying to become famous people: "I object to The X Factor and Big Brother, which are the modern equivalent of throwing cabbages at people in the stocks."
David is, of course, starring in the zombie drama The Walking Dead right now.
That's real people, being killed by unreal people.
Read More
Filed Under: