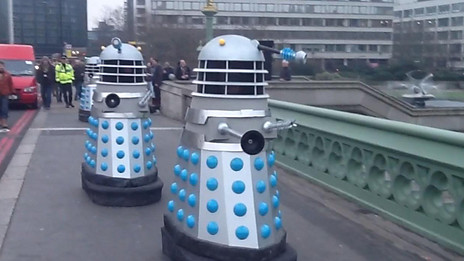 More details have emerged concerning An Adventure In Space and Time, Mark Gatiss's dramatisation of the early years of Doctor Who, starring David Bradley as the First Doctor, William Hartnell.
It seems the script doesn't just cover the months leading up to the creation of the longest-running science fiction TV show of all time, they are ressurecting some of the classic moments from those early serials, including the Daleks trundling over Westminster Bridge (and very considerately keeping to the sidewalk), from the epic adventure The Dalek Invasion of Earth.
The recreation took place yesterday morning (Sunday 17th), in the early hours, and it was even filmed by Mark Gatiss himself. This video appeared on the Doctor Who website overnight:
There's definitely a moment where those things stop being upended garbage bins with men inside and start being Daleks, isn't there?
In other An Adventure in Space and Time news, it's emerged that Mark's former League of Gentlemen colleague Reece Shearsmith will be playing Patrick Troughton, who became the Second Doctor when William Hartnell's declining health forced him to retire. And it looks like there's even a part for the actor William Russell, who played Ian Chesterton, the Doctor's first male companion, back in 1963. Naturally he won't be revisiting that role, but he does have a cameo part, playing a character called Harry.
Oh, and the Radio Times has an on-set picture of David Bradley and Lesley Manville playing William Hartnell and his wife Heather.
An Adventure in Space and Time will be broadcast later this year.
Read More
Filed Under: