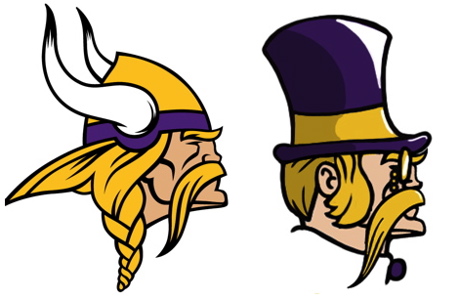 Put down your cricket bat and grab a football helmet. While the National Football League's plans are still a long way from crossing over the goal line, the gridiron group is known to be desirous of establishing a franchise in London.
Following up on a flurry of talk late last fall about how and why the NFL was considering expanding into the UK, David Rappoccio, an artist, filmmaker and sports fan who runs a blog called Dave's Art Locker, amused himself this week by posing the question, "What if all the NFL logos were British?" He proceeded to answer his own question in the blog post by designing new, Brit-friendly logos for all 32 current NFL teams. He also gave many of the teams more anglicized-sounding names.
Rappaccio rechristened, for example, the Washington Redskins as Delightful Chums We Had a Tendency to Oppress. The New England Patriots became Those in Her Majesty's Service, and the Cleveland Browns became Pontificating Poochies, with the team's bulldog mascot now sporting a monocle, mustache and bowler hat in the logo.
You can see all the logos by clicking here.
—————————-
How did your favorite team fare in getting Briticized?
—————————-   
Read More
Filed Under: