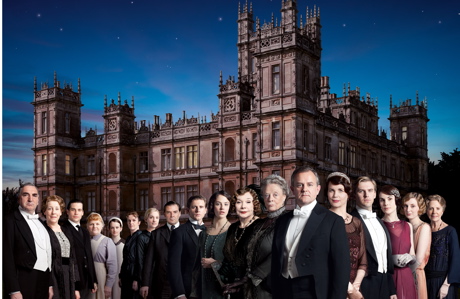 If you're still recovering from the Downton Abbey finale you're not alone. Literally, you can check in with other fans and the stars of the show on Twitter. Check out which actors are on Twitter and who will Tweet you back!
1. Hugh Bonneville 
Ah Cambridge, Cambridge, seat of learning and rooftops of… oh. *consults map* Ah Chiswick, Chiswick, er, Chiswick.

— Hugh Bonneville (@hughbon) February 20, 2013
Hugh (Robert Crawley, Earl of Grantham) is extremely active on Twitter with 13,619 tweets to date. He's not shy to let us know his whereabouts! Wait, does he know where he is?
2. Elizabeth McGovern
Another gig tonight ! @phillylopez and Elizabeth tune up for Union Chapel, London. Come on down for a great show! twitter.com/ElizabethMcGov…

— Elizabeth McGovern (@ElizabethMcGov) February 17, 2013
Elizabeth (Cora Crawley, Countess of Grantham) is not only an actress but a singer. She uses Twitter to get the word out about her band. She's a little more selective with her posts with 363 tweets.  3. Dan Stevens 
It's February. Here's that column… telegraph.co.uk/comment/person… — Dan Stevens (@thatdanstevens) February 3, 2013
Dan (the late Matthew Crawley) uses Twitter to promote his other projects like this column he writes for the U.K. Telegraph. Ah, give the guy a break … he had a rough last episode. He's pretty active with 5,100 tweets.  4. Brendan Coyle
Saw our @elizabethmcgov Sadie and the Hotheads @union Chapel tonight..Brilliant..what a band,now great docco on Lowry on ITV..#Sundayneet — Brendan Coyle (@brendancoyle99) February 18, 2013
Brendan (John Bates) shows his support of fellow castmate Elizabeth and uses Twitter to promote her gigs. He hasn't used all 1,788 of his tweets for moral support; he has some zingers in there as well.
5. Lesley Nicol
@peekaboo003Thank you – usually it is September in the UK and the following January in the US

— Lesley Nicol (@lesley_nicol) February 19, 2013
Lesley (Mrs. Patmore) will respond to you! It's so fun when you hear back from someone you probably wouldn't otherwise meet. She's had full-fledged chats with viewers. Her tweets stand at 1,954.
6. Laura Carmichael 
@vlachashton i am darling shh… Don't tell anyone…xxx want to see you soon! X

— Laura Carmichael (@Carmichelle) September 16, 2012
Laura (Lady Edith Crawley) is another one who will respond to viewers' inquiries. She's not shy to talk to her mates on Twitter as well. She's one of those people who are borderline cryptic-slash-mysterious, keeping everyone on their toes! She is on the leaner side with 213 tweets.
7. Allen Leech
"@charliejburness: I am particularly happy with my eyebrows this morning." So am I and @hughbon!

— Allen Leech (@Allenleech) February 20, 2013
Allen's (Tom Branson) Tweets are fun because they sound like something a friend would say. "Yep, good to know Allen your eyebrows are looking good." It's all fun and nice to know that actors are just like us. We give him credit that all 1,308 of his Tweets are not about grooming!
8. Shirley MacLaine 
Happy New Year! Make 2013 the best year yet. That's our responsibility!

— Shirley MacLaine (@maclaineshirley) December 31, 2012
Shirley (Martha Levinson) isn't on Twitter every day, with 369 tweets, but when she tweets, people listen. This post alone received 71 retweets.
9. Downton Abbey 
Our darling Maggie Smith has given a rare and wonderful interview for CBS's 60 Minutes. Take a peak here cbsnews.com/video/watch/?i… #TeamDowager

— Downton Abbey (@DowntonAbbey) February 18, 2013
This is the place to go to find DA news and updates!
Who do you follow on Twitter? 
Read More
Filed Under: