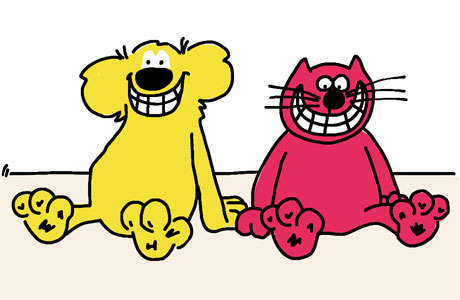 There's a generation of British inventives, people who were young during the Second World War, and were used to fixing things, and being creative, using materials that were to hand. Somehow, they managed to put these skills to most effective use entertaining children, although, being very capable people they'd be equally at home with adults. We've very nearly run out of them now.
Roald Dahl was one. So was the animator Oliver Postgate, who made Bagpuss and The Clangers. And so was the cartoonist Bob Godfrey, who has died, aged 91.
Bob's studio – sometimes called Bob Godfrey's Movie Emporium, or Roobarb Productions – had a singular cartoon style, all dancing pen strokes and bright colors on a white background, and was a hugely familiar part of the British childhood, for people of a certain age. He created such effervescent cartoon hits as Henry's Cat:
And Noah and Nelly in SkylArk, a surreal version of the story of the ark, only in the sky, featuring push-me-pull-you animals and a west country Noah:
But this wasn't all he did. Among many, many other things in his career, including a long spell teaching animation, he was a special advisor on the Beatles cartoon Yellow Submarine. He also won an Oscar, in 1975 for his film Great, the multimedia story of Isambard Kingdom Brunel.
But his most enduring hit was the riotous Roobarb and Custard. We've mentioned this cartoon on Anglophenia before, most recently when Richard Briers, who narrated it (and Noah and Nelly), died earlier this week.
It's awful to think that the two men most responsible for creating such a beloved childhood institution have vanished within days of one another.
Here's a full appraisal of his career, by BBC News.
Read More
Filed Under: