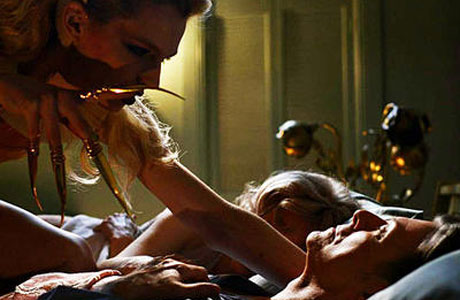 When David Bowie, who had appeared to be settling into a well-earned and cosy retirement, suddenly reappeared last month with a new song, "Where Are We Now?" and the artwork for a new album, "The Next Day," it was a cause for major celebration.
Ever the contrarian, Bowie's first move to reassure his public that he was hale and hearty, and ready to get back to work, was to appear in a video in which he looks a bit withered, a bit broken, as one of two heads on a threadbare teddy, glassily staring across a a room full of old junk. It was fitting for the song, but left an undercurrent of worry, that perhaps this new Bowie was going to be a far frailer version of his old self.
Well, the good news is that's not the case at all. Proof comes in the shape of his new video, released just hours ago, for a song called "The Stars (Are Out Tonight)." It was directed by Floria Sigismondi, another old friend of Bowie's, who also directed the videos for his 1996 drum 'n bass single "Little Wonder" and "Dead Man Walking" from 1997.
It stars David, looking far healthier, and doing some acting with Tilda Swinton, and there are some ladyBowies and sharp-cheekboned gossips, and it's unsettling and delirious and great:
AND there's a possibility that he might even tour, according to his guitarist Gerry Leonard, who told Rolling Stone: "I would say that it's 50-50. A couple of times, when we played back one of the more kick-ass tunes from the new record, he'd be like, 'This would be great live!' Of course, everyone was like, 'What? Did he just say that?' But other times he'd just roll his eyes if someone brought up playing live."
As ever, with Bowie the best advice seems to be to just wait and see…
Read More
Filed Under: