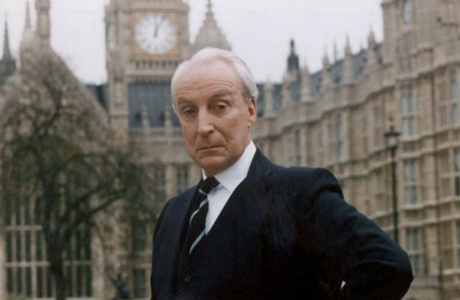 Following BBC Home Entertainment's release of the digitally remastered House of Cards trilogy, BBC AMERICA has announced that it will air the original British House of Cards miniseries, the first part of the trilogy, this Sunday (February 17) at 3 pm ET.
Adapted by Andrew Davies from Michael Dobbs' best-selling novel, the 1990 BBC miniseries centers on the machinations of Francis Urquhart (Ian Richardson), a politician who, after being denied a Cabinet post by the newly installed Prime Minister, ruthlessly schemes his way to power, pulling the strings of British politics while destroying the many players around him one-by-one.
Richardson won a BAFTA for his icy, urbane portrayal of the Machiavellian Urquhart, and the miniseries itself has been embraced as one of the enduring classics of British television. (Two well-received sequels, 1993's To Play the King and 1995's The Final Cut, followed.)
House of Cards was also a tremendous success stateside: Davies was rewarded for his work with a Primetime Emmy award in 1991 for Outstanding Writing for a Miniseries. Davies is currently an executive producer for the recent American remake of House of Cards, which stars Kevin Spacey and premiered its first 13-episode season on Netflix's streaming platform February 1.
The remastered House of Cards trilogy is now available for the first time ever on Blu-ray.
Read More
Filed Under: