Banksy, the infamous graffiti street artist, has been robbed of one of his North London murals that dubiously showed up on a U.S. auction website, reports The Sun. The mural is valued at $450,000.
His work consists of political and social commentary, which has appeared on streets, walls and bridges throughout the world. So, who owns the work once it's displayed? Does it fall under city domain? Is it the building owner's? Is it now the public's to enjoy? It's definitely not meant to be cut out of the side of a building, held in storage in Europe to be ultimately sold to the highest bidder, which is the case in this situation.
The mural that has been stolen is of a young boy at a sewing machine creating a Union Jack bunting (cloth used to make a flag). The image represents child labor being taken advantage of. Ironically, now Banksy is the one being taken advantage of.
It's hard to understand how this can be legally sold in auction. Can it?
The Fine Art Auctions Miami website owner, Frederic Thut, claims it was offered to him by a "well-known collector" along with a second piece of work, saying, "The collector signed a contract saying everything was above board."
Just because someone says everything is honky dory doesn't necessarily mean it is.
Kate Gibson, a spokeswoman for Poundland, the store where the missing Banksy was sketched, wrote in an email to Reuters, saying, "We lease the premises from a landlord and were as shocked and surprised as anyone at the removal of the Banksy artwork. We understand the upset this has caused and in no way do we condone the removal of the artwork without proper consultation with the community."
This is what the building looks like now, see below.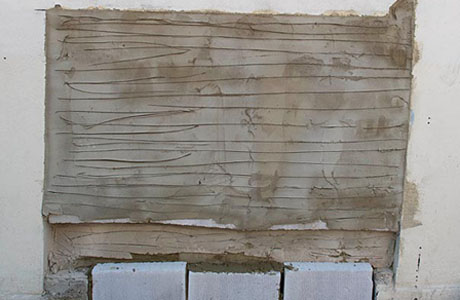 We expect many people have walked by a Banksy and thought, "I wish I could just put that in my pocket," but they don't for the obvious reasons: 1) It's nor yours to take and 2) Leave it where it is for others to enjoy.
Councillor Alan Strickland, who is a cabinet member for economic and social inclusion, said, "Banksy gave our community that painting for free."
He goes on to elaborate telling the Sun, "Someone has taken it and plans to make a huge amount for themselves, which is disgusting and counter to the spirit in which it was given." Locals are demanding that the piece be returned to where it belongs.
Strickland sums it up by saying, "No doubt Banksy will be horrified."
The Banksy mural is currently featured on the homepage of the auction website. There does not appear to be any plans to cancel the sale.
Do you think Banksy will provide a reaction? 
Read More
Filed Under: