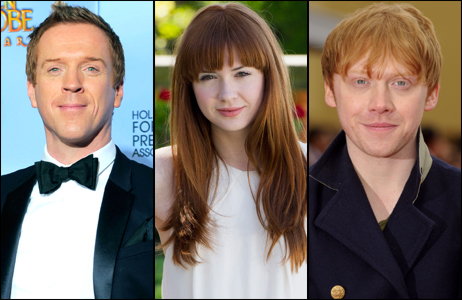 Ever wondered why it took an American TV show to elevate Londoner Damian Lewis to the post of sex god? In his real-life homeland, having an orange mop is a bigger impediment to perceived attractiveness than bad breath and facial warts. This, despite Britain boasting more red heads per capita than any other country. Our irrational hatred means most Brit actors sporting a rusty fuzz — particularly men — are doomed to play goofy sidekicks, creeps and other roles that don't require obvious sex appeal. Just look at Rupert Grint and Simon Pegg. Even Doctor Who's stunning Karen Gillan is considered more fan-boy fodder than mainstream beauty.
Americans are, correctly, shocked and appalled by this British prejudice. U.S. folk will hate on you for many illogical reasons but never for being red headed. Here, sable-locked parents seem genuinely delighted when they pop out a ginger. And should their flame-haired kids grow up wanting to be actors, they're not going to be scuppered by red-headed hatred. Hot gingers from Marcia Cross to Lindsay Lohan have been trumpeted as beddable, in no small part because of their ginger hair. Others, like Cynthia Nixon and Mad Men's Christina Hendricks, dyed their tresses orange to boost their allure.
Like a lot of Brits, I grew up hearing supposedly right-thinking, genocide-spurning adults riff merrily on the topic of drowning babies born with a carrot top. A redhead I went to school with endured years of paper airplanes to the head and mocking inquiries about the color of his "down there hair." Had he been raised in America, I suspect his peers would have picked on him because of his squeaky voice, not his orange fur. Ginger British girls have it just as bad. English model Lily Cole has spoken about her own in-school teasing, as has Karen Gillan.
Alas, hair color harassment isn't limited to kids in the classroom. This January, a Birmingham man was severely assaulted by strangers simply for having a red top. Grownup gingers don't get any respite from jeering Brits — even if they're pretty and famous. American actress Jessica Chastain recently told GQ how she received truss-related flack from holidaying Brits while filming in Thailand: "You Brits are usually so mean to your redheads. Why is that? In America it's seen as a good thing… I'd be walking down the street and people — British people — would stop the car and scream, 'Ginger!' at me."
Why do we despise redheads? Check the internet and it'll tell you Brits' Anglo-on-orange issues stem from our hatred of our Scandinavian invaders, the Vikings — purportedly a people dense with gingers. Whether or not our deep-down loathing of interloping Danes led us down this road, it's time to stop bullying defenseless reds. I wouldn't normally champion the U.S. as a giant Betty Ford clinic for prejudice, but actually I believe that spending time in the U.S. can help you quit your red hair-hating ways. I'm even thinking of petitioning the White House to introduce a new category of visa specifically for hounded British gingers and gingerphobes in "recovery." Only with America's help can we beat this thing.
What has been your experience with gingerism? Tell us below:
Read More
Filed Under: