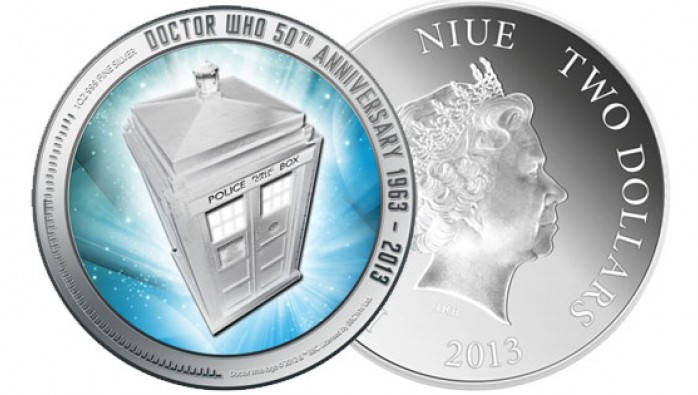 You have to admit, this year has already seen its fair share of astonishment around the 50th anniversary of Doctor Who. There were the commemorative stamps, the commissioning of a drama depicting the creation of the show in 1963, the endless speculation over how many (if any) former Doctors would be making an appearance in the actual 50th anniversary special story, and now New Zealand has taken the delightful step of minting a two-dollar coin with a TARDIS on it!
The coin is a collaboration between BBC Worldwide Australasia and the New Zealand Mint, and even comes packaged in a model of the TARDIS that makes the familiar "wheezy elephant with tuskache in an oil tanker" noise when opened.
And that's not all. There will be further Doctor Who coins minted later in the year, and beyond. Each Doctor will have their own coin, for starters, and there will be other designs to boot. In fact, the series will reportedly continue well into 2015!
Simon Harding, Chief Executive of NZ Mint told Doctor Who.TV: "I grew up watching Doctor Who as a child in New Zealand which, coincidentally, was the first country outside the UK to screen the show. It's a great honour to now be asked to produce these coins to celebrate the 50th anniversary. Fans are going to really like what we've come up with."
To get your hands on the coins, you'll need to get over to the World Money Fair in Berlin next Thursday (February 1), or, if that seems like a faff, get over to the New Zealand Mint website.
Read More
Filed Under: