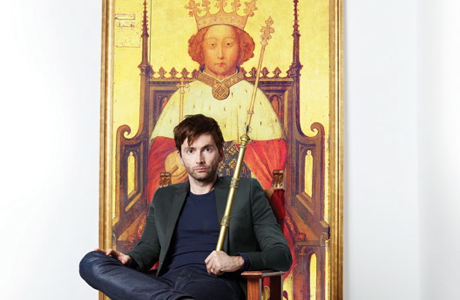 David Tennant is not only returning to BBC America – the former Doctor Who actor will also be going back to the Royal Shakespeare Company, where he will be playing Richard II later this year.
The announcement, writes the Telegraph in a "Hot Tickets" e-mail report, "apparently triggered a frenzy of joining the RSC for Doctor Who fans desperate to be first in line for tickets."
The paper called the actor's return to the RSC "exciting news." Tennant has been performed in three RSC seasons since 1996, most recently playing Hamlet for the company in a highly praised 2008 production.
"Of course Hamlet was a challenge, it's the Everest," said Gregory Doran, the RSC's new director speaking to the Independent. "Richard II is written entirely in verse. He has no problem with verse. He breathes it, he makes it sound as if it is completely effortless."
The challenge for Tennant, said Doran, will be to convey "the sense of the man's volatility, fragility – that psychology is more alien to David's character."
Here's what Tennant says in an RSC video about working on Richard II with Doran, who will direct:
After Richard II opens at the RSC's Statford-Upon-Avon theater in October, it will then move to the Barbican in London.
Did you score tickets? Tell us below:
Read More
Filed Under: