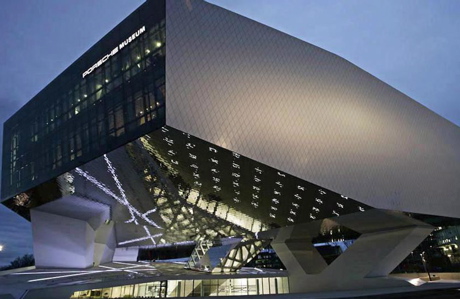 Great news for all of you Top Gear-heads and car enthusiasts! The BBC is launching a new car site – and its first official day is TODAY!
You should head on over to BBC Autos if you want more of the kind of automotive goodness that you've come to love from Top Gear and the BBC.
For example, you'll find a full feature about Orlando Speedworld's annual Crash-A-Rama, which sounds like it could have been invented by Top Gear.
"Cars crash, as do school buses, trucks, motorhomes, trailers and boats," writes BBC Autos. "Things blow up and burn to the ground." Sign us up NOW!
In the photo gallery "Porsche's Secret Stash," BBC Autos takes you to the storage center for Stuttgart's Porsche Museum and all its hidden treasures.
The BBC's newest website will also look at cars from a cross-cultural perspective. For example, there's an article about how Europe still has honest-to-God station wagons, though they're called "estates" overseas, while U.S. family vans have just continued to grow larger and larger into, essentially, trucks.
Additionally, you can learn how GM is trying to help you integrate your iPhone's Siri voice system into their cars.
You can also read the Hamster himself on his Mustang ("I love it more than I love my own hands.")
• A few weeks back, we told you that Season 19 is coming. We even had some preliminary details, such as a confirmation of the various sightings of the Top Gear hosts right here in this country, participating in a challenge that took them to Las Vegas and to the Mexican border, as well as a trip to Africa.
But with the start of the new year, you don't have to take our word for it – you can hear, direct from Clarkson, Hammond and May themselves, that, yes, Top Gear is back:
• Speaking of being back, Arnold ("I'll be back") Schwarzenegger is returning to the screen later this month an action movie, The Last Stand. In it, the Governator follows the Hamster's Crash Course example, and flattens an expensive German car with a tank. Top Gear UK wasn't exactly sure of the pithy-one liner Arnold uttered as he squashed the Mercedes, but, the website wrote, "In fact, anything said in an Arnie accent becomes a pithy one liner."
• As we're sure you're aware, awards season is upon us, and Top Gear is certainly represented. It's on the shortlist for the best factual entertainment show in Britain's National Television Awards, an annual prize voted on by viewers. Richard Hammond is also up for an award in a separate documentary category for his show Planet Earth Live. You can cast your vote right here. The ceremony airs on January 23 on ITV.
• Jeremy Clarkson has been teaching his 17-year-old daughter Emily how to drive.
"She is pretty handy now," Clarkson said. "Handbrake turn – I taught her to do that in a Focus RS and I must admit she's pretty good at it."
Clarkson added: "She had a driving instructor to fill in the blanks that I didn't know, like the law." (via The Sun)
Read More
Filed Under: