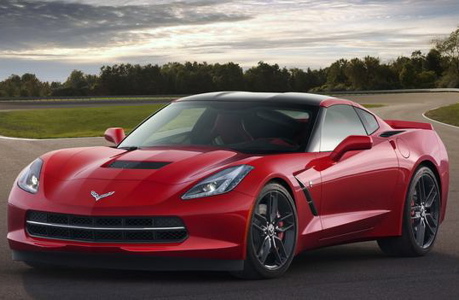 BBC Autos is at the North American International Auto Show in Detroit.
The new website wrote about the 2014 Chevrolet Corvette Stringray, the seventh generation of the iconic American sports car, which previewed on the eve of the Detroit car show.
"Though initial reactions to its styling have been mixed," said BBC Autos, "there is beauty in the go-fast details."
The 450-horsepower engine, which is also profiled in a BBC Autos piece, has a 20 percent increase in power over the current Corvette. The car can go from zero to 60 in under four seconds but still gets an estimated highway mileage of more than 26 mpg.
In a promotional video, Corvette's chief engineer Tadge Juechter pointed out that 2013 marks the Corvette's 60th anniversary.
In a look at the 2014 Jeep Grand Cherokee, one of the site's writers said: "The addition of a diesel engine to the Grand Cherokee is a celebration in and of itself. Sure, Europeans are long accustomed to buying diesel Grand Cherokees, but now stateside buyers can enjoy the improved fuel economy and prodigious low-rpm torque provided by the oil-burning engine."
The look at the diesel Grand Cherokee follows a piece last week called "Why do Americans not drive diesels?"
Among BBC Auto's other stories out of Detroit:
"China rising in Detroit" – With two production models and one concept car in its first presentation at the Detroit auto show, "Chinese manufacturer Guangzhou demonstrated it might eventually be a significant player."
"Ford Atlas, a world-hauler" – "True to its name, Atlas is mammoth – a gargantuan crew-cab pickup with four doors that looks ready to shoulder the actual Earth, and not a scale replica, in its bed."
"Kia goes long with Cadenza" – "Not a mid-size and not quite a full-size sedan, the Cadenza occupies an increasingly sweet middle ground for automakers."
The auto show runs through January 27 in Detroit.
• Damian Lewis, fresh off his Golden Globe win Monday night, is reportedly getting an even more important honor: according to Metro, Homeland's Lewis is going to be a Star in a Reasonably Priced Car in Season 19 of Top Gear.
• Speaking of Stars in Reasonably Priced Cars, you might want to take a look at this exclusive behind-the-scenes excerpt from the appearance of Doctor Who's Matt Smith as a Star in a Reasonably Priced Car in Season 18. It's a musical outtake, but chances are we won't need to provide you with the lyrics for you to sing along:
• Get ready for the all-new shows of season three of the American version of Top Gear with Adam Ferrara, Tanner Faust and Rutledge Wood. Top Gear USA's new shows premiere Tuesday, January 29, at 9/8c on History. And while you're waiting for the three Yanks to return later this month, take a look at Tanner geeking out on his Corvette tires:
• Top Gear Live has confirmed at least four destinations for this year. The event will go to Moscow on February 22 and 23; Sydney on March 9 and 10; Amsterdam on April 27; and Durban on June 15 and 16.
• It looks like a Top Gear-produced YouTube video. And it sounds like a Top Gear-produced YouTube video. It even appears to be a promo for a video game, and we know that Top Gear has loaned out its talents to Sforza Motorsport. But don't let that fool you – the Battlefield 3 Top Gear video is a cleverly made fan creation produced by RocketSolution, a group that describes itself as composed of "battlefield veterans who like to create videos/movies." Take a look:
Read More
Filed Under: