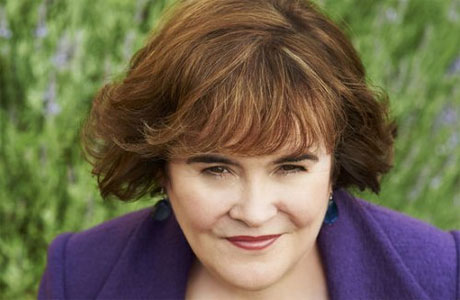 Hey world? You know Susan Boyle? You know how her rise to international fame is based on a commonly-understood joke, one that states that people who are not attractive can't sing well, or usefully contribute to society, and she doesn't appear to have got that memo and yet insists on being good at singing anyway? Well, having already converted that ugly duckling narrative into a stage musical, it seems plans are being drawn to convert this into a movie, just like Les Miserables!
And they're pretty heady plans too, the names of various A-list talents are being bandied about like nobody's business, including George Clooney as her manager Andy Stephens, and (perhaps slightly more realistically) Julie Walters as SuBo herself.
I say realistically because Julie has admitted that, should an offer be forthcoming, she'd be very keen to take on the role, not least because she's a big fan.
She told the Telegraph: "I'm really honored, because I'm massively touched by her and she's got a gorgeous voice."
However, there are still one or two contractual issues to sort out, not the least of which is a lack of an actual contract. Or even a formal offer. Or an informal one: "Nobody has actually asked me to do it, just yet."
Susan herself is adamant that Julie – who starred in Calendar Girls, Educating Rita, and all of those Victoria Wood comedies – is the person for the job, telling the Sun in November: "There's only one person I'd love to play me – and that's Julie Walters. She would do the job and you just know she would do my story justice."
By which she probably means "Julie Walters does not mind appearing to be unattractive in her acting work, and can probably mime pretty well."
And as for that George Clooney idea, Susan's basic attitude there is that stranger things have happened: "It's wishful thinking. But it's Hollywood… anything can happen."
Which leaves the part of Simon Cowell open for Alan Rickman, naturally.
Read More
Filed Under: