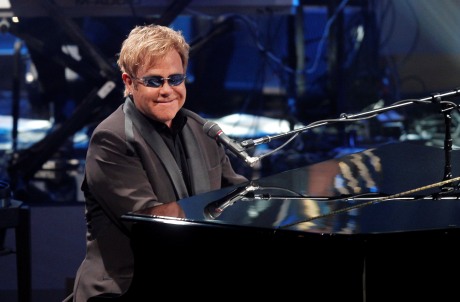 Good morning, and welcome to the future.
You're possibly unaware that a musical paradigm shift has taken place, that nothing will ever be the same as it was only the other day, and if that is the case, can I just take a moment to apologize for shaking your understanding of the nature of everything to its very core in such a brutal fashion? It's not fair on anyone, a shock like this, but progress must be made, we have to keep evolving, or the chimpanzees will catch up.
So, last Friday, Sir Elton John demonstrated a new piano system, at the National Association of Music Merchants convention in Anaheim, California, which allows him to play music with his fingers in one place, and for that music to come out of another piano somewhere else.
I know it's hard to take on board at first glance; you feel a little like a kitten being shown how to use Facebook (and, by the way, if you are a kitten considering taking up social media, relax, you'll fit right in). But you see, normally when you play a piano, the noise comes out of that piano, but now, with the new Yamaha RemoteLive technology, it comes out somewhere else. Anywhere on the planet, in fact.
You could literally be walking past a piano in a pub, or see an old one in a skip, and without any warning, it'll start playing, I dunno, "Sorry Seems To Be The Hardest Word" or "Goodbye Yellow Brick Road." Just like that.
Oh hang on, sorry, no that's not it. It's only if you've got a Yamaha Disklavier TV piano, with special magic keys, in a skip. Like this:
http://www.youtube.com/watch?v=bQt992CjFoo
Is the penny starting to drop yet? This means, right, that instead of musicians traveling the world making personal appearances in out-of-the-way stadiums, a whole new distribution system can be developed. Small venues in your local area — coffee shops, village halls, post offices — can buy a Disklavier TV, and set up a PA and projector, and then put microphones on the piano, and mix it all together with an audio feed of everything else from Sir Elton's concert. And this would be LIVE, no less, so possibly at less-than-convenient timeslots for music fans – and everyone can come and see what it would look like if Sir Elton John was invisible and on the TV at the same time.
I know! I would pay good money for that too.
And before you Snarky Charlies get all funny about it, clearly this is VERY different from just projecting all of the live feed of an Elton John concert onto a screen behind a normal, silent piano, because the keys will be moving, and there will be a definite live instrument in the room, making noise. There will be overtones, undertones, harmonics, that kind of thing. Sonically it will be a slightly different experience, and that's exactly the kind of thing Elton John fans have been crying out for.
Never mind the extravagant glasses, the costumes and dancing girls and spectacle, what Sir Elton's fans want is to be closer to the sounds that come from his magic fingers, without anyone being in any danger of touching his actual fingers. That would be unhygienic.
Of course, the other musicians in Sir Elton's band still have to be recorded and sent using conventional means. And there's no Disklavier TV for his voice, short of getting, say, that big guy from The Commitments to sing in time with the movement of Sir Elton's mouth, and while I doubt he's hugely busy these days, even he can't be in two places at once.
But that's by the by. The point is, now we can all be in the presence of Sir Elton John playing the piano without having to be in the presence of Sir Elton himself. It's just like playing the records at home, but, y'know…out.
Technology, you win again.
Read More
Filed Under: