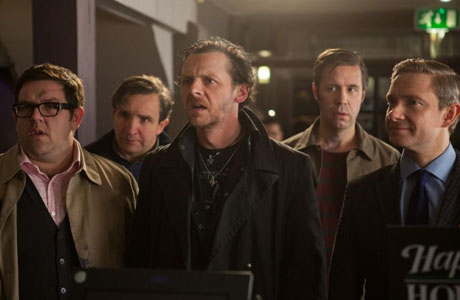 Simon Pegg, 42, just finished filming The World's End — co-written with Edgar Wright – explaining it isn't necessarily a parody like its predecessors Shaun of the Dead and Hot Fuzz.
Pegg sat down with Blake London's Creative Heads saying, 'The theme that will bind the three films together is not parody or even ice cream," says Pegg. "It's a preoccupation with the struggle of the individual against the collective. Shaun vs zombies, Angel vs the NWA, Gary King vs (???)."
The comedian contemplates how the trilogy may be received telling Creative Heads: "Thematically, it will all make sense when the three films can be viewed consecutively. This sounds lofty but they form a dialectic sequence, which I hope film students will write essays about. Shaun of the Dead = evolution, Hot Fuzz = devolution, World's End = revolution."
Hmm, that could happen.
The World's End reunites Pegg with Nick Frost and also stars Martin Freeman, Eddie Marsan, Rosamund Pike and Paddy Considine and is scheduled to arrive in the U.S. on October 25, 2013.
What do you think?
Read More
Filed Under: