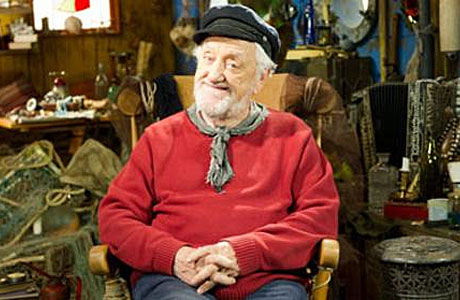 This is rather lovely. Bernard Cribbins, who of course you'll recognise as Donna Noble's grandad Wilf from Doctor Who, is starring in a new TV show called Old Jack's Boat, on the BBC children's channel CBeebies.
The show revolves around a fisherman, his pet Salty Dog, and the stories he tells, and also stars (among other people) fellow-Who graduate Freema Agyeman. Bernard is no stranger to children's TV, having narrated and appeared in all sorts of children's shows, from The Wombles (a '70s animated smash hit, that actually got revived in the late '90s), to The Railway Children.
But in his latest show, the one thing the production team are always on the lookout for are stories. And having been taken back into the Doctor Who family by Russell T Davies, Bernard knew just the fella to ask.
Speaking of his love of broadcasting to a young audience, Bernard said: "I keep coming back to children's television and I love writing it. Obviously you can do stuff in children's that you can't do anywhere else. But it's the audience actually. In fact it's the best audience because they're so uncritical and they're so critical at the same time. It's a very, very, sharp audience. If something is dull or boring or wrong, they'll just wander off. They've got better things to do. And I think if you can get the magic going, create a good children's show, they will literally remember it for the rest of their lives!
"It's just one of those things where you can be as real as you like, as simple as you like and if the story is good (and certainly the stories that I've had to read on this show have been a smashing lot of stories) you just engage one child through the lens…"
And this wasn't Russell's first time creating stuff for a young audience either: "Many years ago I used to be a script editor on a programme that was for very young kids. It was a nice show – it was quite hard work because they sent me a list beforehand of how to write for under fives. There has to be no repetition, there must be no jeopardy. And I was like 'well that's my career gone' I thought 'that's all I do is repeat myself, put people in danger… what am I left with?' So I genuinely found it hard and then I loved it, having gone through it. I was really proud of it actually."
Read More
Filed Under: