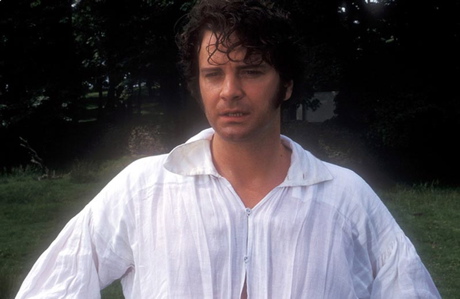 Before the month is over, we'd be remiss if we failed to note that January marks the 200th anniversary – we're talking bicentennial – of the publication of Pride and Prejudice by Jane Austen.
The beloved novel, in which both Elizabeth Bennet and Fitzwilliam Darcy overcome first impressions to realize they were meant for each other, originally appeared in three volumes on January 27, 1813. It has subsequently sold more than 20 million copies.
While we could go on and on about the novel's long term popularity, wit, meaning and adaptability (movie versions, zombie novels!), let's use the anniversary to look at Colin Firth in a wet shirt and to muse on stamps.
Firth, of course, rocketed to international stardom in 1995 when he heated up TV screens as Darcy in the six-part miniseries of Pride and Prejudice.  Jennifer Ehle portrayed Elizabeth in this version.
Here, because we can never see this clip too many times, is the scene where Firth, as Darcy, takes a summer dip at a lake at Pemberley, his Derbyshire estate:
Now that you're all hot and bothered from watching the clip, time to get sticky, as in the backs of stamps. In honor of the P&P bicentennial, Britain's Royal Mail on February 21 will issue a set of six stamps saluting all six of Austen's novels. Each stamp shows a pivotal scene or character from a book, including P&P, Sense and Sensibility, Mansfield Park, Emma, Northanger Abbey and Persuasion. Click here to order.
Read More
Filed Under: