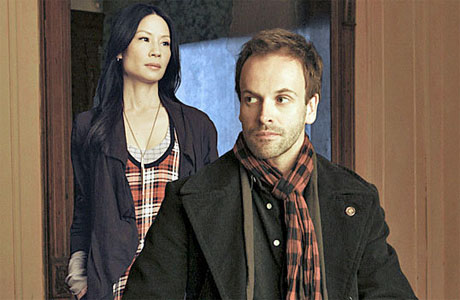 Not for the first time, we find ourselves asking the question: how does Sherlock Holmes do it?
It's hard to imagine another figure from literature that could not only withstand three different presentations based on the same person, but come out unscathed and even more wildly popular each time. And yet, we've got the Robert Downey Jnr Sherlock – (steampunk and fisticuffs), the Benedict Cumberbatch Sherlock (sarcastic autism), and the Jonny Lee Miller Sherlock in Elementary (New York procedural) all doing enormously well, all at the same time, without any one actor coming close enough to making such a definitive fist of the character (although we all have our favorites, Mr Cumberbatch) that it damages the appeal of the others.
Certainly Elementary, considered to be a potential runt in this particular litter, has gone down so well with TV viewers, it has been awarded the TV spot immediately following this year's Super Bowl. Something that came as something of a shock to Jonny Lee himself.
He told Collider:  "It was a total surprise! It was a new thing to me. I wasn't aware of what the Super Bowl slot was. So, when you find out, you're just really excited because it means that we're doing good and we're doing something right. We're very, very happy."
One person to whom this is no surprise at all is Benedict Cumberbatch, who has been sending his friend Jonny Lee congratulatory messages to say how much he enjoys the show.
"He sent me some messages," explained Jonny, "when he'd first seen the show, and it was really, really nice. I'm pretty sure he wouldn't have sent me a text message saying, "You suck!" He's been very supportive, the whole way."
And it's not just Benedict: "It's nice, you meet cab drivers, here or there, or whoever, and they know you as Sherlock Holmes. That's a thrill because we make our show for people. If they're watching the show and enjoying it, that's all that matters really, to me."
So, what do you think? Could we even manage a fourth Sherlock?
Read More
Filed Under: