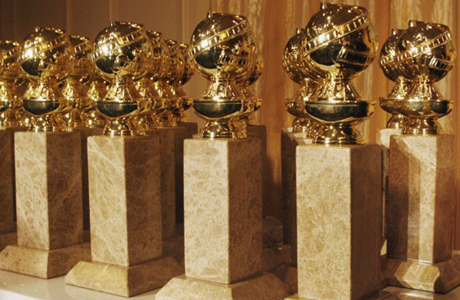 Be sure to follow @Anglophenia on Twitter for all of the Golden Globes hijinks on Sunday, January 13, starting at 8 pm ET. While the Academy disappointed us this year with their assorted snubs of worthy British candidates, the U.K. will be well-represented at the Hollywood Foreign Press Association's lively shindig.
Some things to look out for:
1. Benedict Cumberbatch has a shot to avenge his Emmy defeat with a win for Sherlock in the Actor in a Miniseries race. The HFPA loves the Brits in this category: last year, Idris Elba won it for BBC AMERICA's Luther. But he'll have to beat two of his countrymen, Toby Jones (The Girl) and Clive Owen (Hemingway and Gellhorn), to get to that podium.
2. Dame Maggie Smith could scoop up two trophies, one for Downton Abbey and the other for her recently released Quartet.
3. Adele could improve her Oscar chances with some Globes love for her Skyfall theme. Will she turn up?
4. Brits have a 60 percent chance of earning a win in the Actress in a Musical/Comedy film category, with Emily Blunt (Salmon Fishing in the Yemen), Judi Dench (The Best Exotic Marigold Hotel), and Smith all vying for the same award. I'm sure they're practicing their "smile when you lose" faces for the inevitable Jennifer Lawrence win, but they'll look fabulous while doing it.
5. Meanwhile, three out of the five of the Actress in a Drama nominees are British, with Naomi Watts (The Impossible), Helen Mirren (Hitchcock), and Rachel Weisz (The Deep Blue Sea) all competing. Again, these ladies have practically no chance, as Jessica Chastain's name is all but already engraved on the trophy.
6. The two British films with the year's most awkward titles, Salmon Fishing in the Yemen and The Best Exotic Marigold Hotel, are up for Best Motion Picture Musical/Comedy. Maybe the Oscar-nominated Les Miserables and Silver Linings Playbook will split the "prestige" vote, and one of these Blighty crowd-pleasers will slip through? Yeah, I didn't think so either, but nice dream!
7. The folks at BBC AMERICA were stoked at Idris's win last year, and they have another shot this time around with The Hour in the Miniseries or Made-for-TV Movie field.
8. And, yeah, the cantankerous Englishman Ricky Gervais won't be presiding over the ceremony with his slate-sharpened zingers, but how can you say no to Tina Fey and Amy Poehler, who routinely improve every awards show they attend with just their presence?
Read More