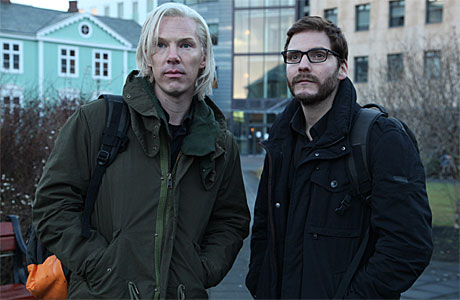 Some actors inhabit their roles by working hard on accents and facial expressions, learning to be their characters from within, and letting that play out across the muscles in their faces. And while I'm sure Benedict Cumberbatch does this too, one look at the still taken from his portrayal of the controversial WikiLeaks leader Julian Assange in The Fifth Estate (previously called The Man Who Sold The World) it's tempting to conclude that he also enjoys a good wig.
In this photo, you can see Benedict alongside Daniel Bruhl, who plays Daniel Domscheit-Berg, the former WikiLeaks spokesperson who wrote the book Inside WikiLeaks: My Time with Julian Assange at the World's Most Dangerous Website, on which the movie is partly based.
Laura Linney, Anthony Mackie, David Thewlis, Peter Capaldi, Dan Stevens, Alicia Vikander and Carice van Houten also star, with Bill Condon directing.
In a DreamWorks statement about the film, Bill said: "It may be decades before we understand the full impact of WikiLeaks and how it's revolutionised the spread of information. So this film won't claim any long view authority on its subject, or attempt any final judgment. We want to explore the complexities and challenges of transparency in the information age and, we hope, enliven and enrich the conversations WikiLeaks has already provoked." (via Business Wire)
The Fifth Estate should reach US theaters on November 15.
Read More
Filed Under: