Poor, poor Edith. She had an especially bad time of it in last night's episode of Downton Abbey.
At the start of the show, Edith (Laura Carmichael), the ugly duckling middle Crawley sister, is to be married and she's aglow with happiness. Her intended is Sir Anthony Strallan, an older, always slightly ill at ease widower with a permanent arm injury from the war. Inexplicably, Edith has long carried a torch for him.
Neither her father, Robert Crawley (Hugh Bonneville), the Earl of Grantham, nor her grandmother, Violet Crawley (Maggie Smith, who in real life nabbed a Golden Globe for her role at last night's awards ceremony), the Dowager Countess, is thrilled with the match. Both think Anthony too old and dull.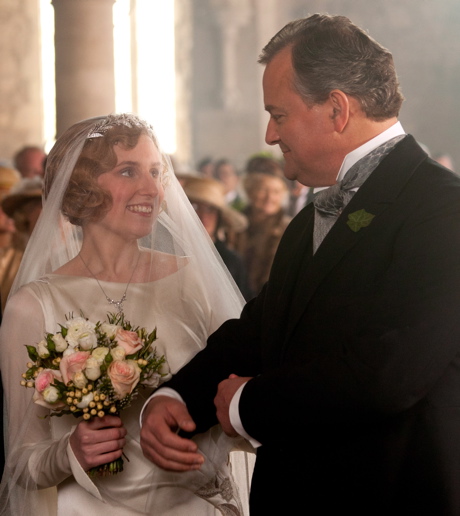 "She'll be a nurse and, by the time she's 50, she'll be wheeling around a one-armed old man," Robert complains to his wife, Lady Cora (Elizabeth McGovern).
Turns out, Lord Grantham isn't much of a fortune teller because Edith is stood up at the altar. (Was this finally karmic payback for her sending that tell-all letter to the Turkish embassy revealing that Mr. Pamuk had died in sister Mary's bed way back in season one?) An almost tearful Sir Anthony begs off just as the minister begins the wedding ceremony. "I can't let you throw away your life like this," he tells Edith.
She pleads with him to change his mind, saying she knows they'll be happy together.
The Dowager Countess swings into action: "Don't stop him from doing the only sensible thing he's done in months," she admonishes Edith. "Wish him well and let him go."
With that, Sir Anthony makes a solo exit from the church, with a loyal Carson (Jim Carter) looking daggers at him.
Upon returning to Downton as a still unmarried woman, Edith runs upstairs, tossing her wedding veil over the second floor railing in a dramatic gesture worthy of Sarah Bernhardt. She collapses onto her bed weeping.
"You are being tested. Being tested only makes you stronger," Cora says, attempting to comfort her. Edith continues to blubber.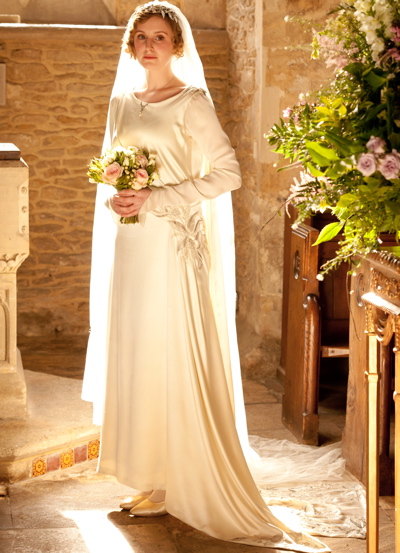 Downstairs, the staff expresses support for the jilted Edith, disdain for Sir Anthony, and gratitude that they now get to dig into the fancy spread that Mrs. Patmore (Lesley Nicol) had labored over for the now canceled wedding day feast.
"What's it to be," the cook asks a tableful of fellow servants, "lobster, duck or asparagus?"
The other major plot thread running through the episode is the continuing question of whether Downton Abbey will have to be sold now that Robert has lost the Crawley stash due to bad investments. In preparation for, ahem, being poor, the Crawleys head over for a picnic at a nearby smaller mansion they own, to which they'll move if they have to downsize. Gazing at the new digs, Tom (Allen Leech), the former chauffer turned Crawley son-in-law, dryly observes, "To most people, it looks like a palace."
All the worry about selling Downton is for naught, it turns out. The estate is saved when Matthew decides – after needless plot complications and wife Mary (Michelle Dockery) making like Miss Marple – to accept an inheritance left him by the late father of Lavinia, his fiancée who died in season two. Matthew then tells Robert he wants to give him the inherited moolah to save Downton. The older man says he'll accept the money only as an investment by Matthew. "We will be joint masters," he tells his son-in-law. They shake on the deal.
Other storylines: Carson and Lady Crawley learn that Mrs. Hughes may have cancer. Carson tells the housekeeper not to overtire herself and Cora reassures her that, if she indeed turns out to be sick, there will always be a place, and people who care, for her at Downton.
Thomas (Rob James-Collier) and O'Brien (Siobhan Finneran) keep dueling, with Thomas planting a false story that O'Brien is looking to leave her post as Cora's maid. And Daisy has a crush on the new footman, Alfred (Matt Milne), as yet seemingly unreciprocated.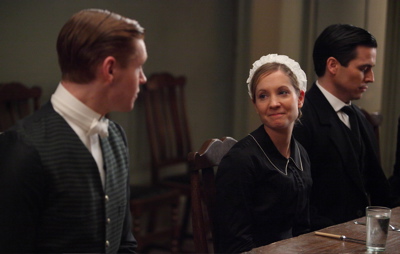 Loyal Anna (Joanne Froggatt) continues her efforts to uncover evidence that might free Bates (Brendan Coyle) from jail, traveling to London to interview a Mrs. Bartlett (played by Clare Higgins, a terrific British stage actress), a friend of Bates' dead wife. In the pokey, Bates' surly cellmate attempts to set him up by planting contraband in his cot, a plot Bates is able to foil thanks to a timely warning from another prisoner.
And do-gooder Isobel Crawley (Penelope Wilton) is still trying to reform prostitutes, this week by teaching them how to operate sewing machines. Ethel (Amy Nuttall), the former Downton maid who had an illegitimate baby, shows up at Isobel's refuge center but runs off before saying why she popped by.
The episode ends with Mrs. Patmore letting Carson know that, good news, Mrs. Hughes doesn't have cancer after all. "It's a benign something or other," Mrs. Patmore explains helpfully. Mrs. Hughes then looks on in amusement as a relieved Carson polishes the silver and, uncharacteristically, sings a jolly song aloud to himself, bellowing the refrain, "She stole my heart away." Any chance that's musical foreshadowing?
Best line by the Dowager Countess: "Sybil, vulgarity is no substitute for wit."
Watch Downton Abbey, Season 3: A Scene from Episode 2 on PBS. See more from Masterpiece.
————————–
How are you liking the third season of Downton Abbey so far?
————————–
Read More
Filed Under: