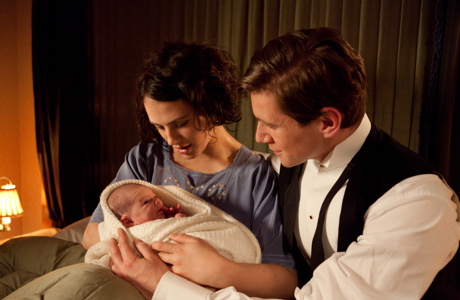 Get out your hanky. Death showed up at Downton Abbey – I mean metaphorically. There was no cheesy dark figure clad in a hooded cape and toting a scythe – to cut down a major character in the latest episode of the Screen Actors Guild Award-winning drama.
The good news: it wasn't Violet, the Dowager Countess (Maggie Smith) who died. For the bad news, read on.
The episode begins with a very pregnant Sybil (Jessica Brown Findlay) suffering early labor pains. Husband Tom (Allen Leech), the one-time family chauffer, and everyone else in the Crawley clan crowds into her bedroom and looks concerned. Dr. Clarkson (David Robb), the kindly local physician, is on the case but Lord Grantham (Hugh Bonneville), her father, announces that he will be bringing a London specialist in for the birth. Wife Cora (Elizabeth McGovern) objects, saying, "Sir Philip Tapsell may have delivered many lords and ladies, but he doesn't know us." (Dr. Clarkson delivered all three Crawley sisters.)
Sir Phillip (played by veteran British stage star Tim Pigott-Smith), the fancy London baby doctor whom Robert has invited to Downton Abbey, turns out to be a pompous, self-confident braggart. He assures Robert and the others over dinner that he foresees no complications. "Lady Sybil is a perfect model of health and beauty," he proclaims.
Matthew (Dan Stevens) sidles up to the doctor when they're alone for a private consultation. "We're anxious to start a family. We've been married for a few months without any results," Matthew says of the fact that he and Mary, despite frequently getting busy, have yet to conceive. Could his old war injury – remember when he was temporarily paralyzed from the waist down last season? – be to blame, he wonders.
Sir Phillip tells Matthew to chill. "Anxiety is an enemy to pregnancy," the doctor advises.
Dr. Clarkson, whom Sir Phillip has grudgingly allowed to consult on Sybil's case, thinks Sybil may be toxemic and in danger of suffering eclampsia (sky rocketing blood pressure, which can be fatal). Sir Phillip pooh-poohs his concerns and warns the local doc, "I cannot allow you to interfere."
Dr. Clarkson doesn't back down. He urges that Sybil be taken to the hospital and the baby delivered by a C-section. Sir Philip tells Robert that is entirely unnecessary.
Cora is all for taking Sybil to the hospital while Robert sides with Sir Philip. The decision is up to Tom. He asks Dr. Clarkson if he can swear that the operation will save Sybil. Clarkson says he can't swear to it.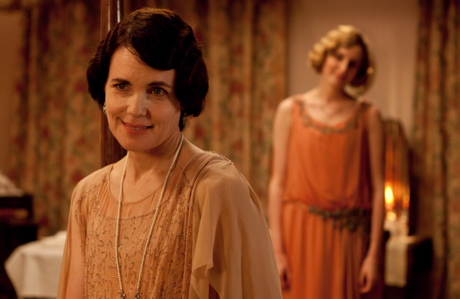 Before Tom can decide, Sybil goes into labor in her bedroom, making moot the question of whether to get her to the hospital. There's no time.
We get a welcome breather as all that worry appears to have been for naught. Sybil delivers a healthy girl and she and Tom gaze reverently at the new baby. "Oh, my darling, I do love you so much," Tom tells her.
Cora kisses Robert and apologizes for having doubted his judgment.
But later that night, Mary wakes her parents. Something is wrong with Sybil. She is clutching her head in pain and moaning and soon goes into convulsions.  It's eclampsia, just as Dr. Clarkson had suspected. He says sadly that nothing can save her now.
Sir Philip's fatuous contribution?  "The human life is unpredictable," he says.
Sybil dies. Tom and Cora, both weeping, are at her bedside as she expires. The rest of the family and the two doctors look on. Sybil's baby wails pitifully.
That night, Cora sits with Sybil's corpse, telling her, "You're my baby and you always will be."  She promises her dead daughter that the family will look after Tom and her infant daughter.
The death of the youngest of the Crawley daughters hits the downstairs staff hard as well, particularly Thomas Barrow (Rob James-Collier). He may be evil and conniving but he has a soft spot for Sybil. "In my life, not many have been kind to me. She was one of the few," a tearful Thomas tells maid Anna Bates (Joanne Froggatt).
The next day, Mary and Edith (Laura Carmichael) spend a few final minutes with Sybil, who lies cold on her deathbed, before her corpse is trundled off to the local funeral home.
"She was the only person living who always thought you and I were nice people," Mary tells Edith.
"Oh, Mary, do you think you and I might get along better in the future?" Edith asks plaintively.
"I doubt it," says Mary, never one to pull her punches. "But since this is the last time we three shall all be together in this life, let's love each now, as sisters should."
They embrace. Meanwhile Tom, bereft, stands off by himself in the corner.
Violet, dressed in black, arrives at Downton, looking weary and worn down by the vicissitudes of life. "Oh, Carson," she tells the family's longtime butler,  "we've seen some troubles you and I. But nothing worse than this."
"Nothing could be worse than this, my lady," Carson replies.
As the family gathers to mourn Sybil, Cora bitterly lashes out at Robert for failing to heed Dr. Clarkson. "If we'd listened to him, Sybil might still be alive," she says, staring daggers at her husband, who looks contrite.
Violet is having none of it. She says the blame game is a pointless one. "Our darling Sybil died in childbirth," she says. "All we can do now is cherish her memory."
Missing from the family gathering is Tom. He's upstairs, holding his motherless baby in his arms. As the episode ends, in a moving final shot, father and daughter are framed in one of Downtown's second floor windows, growing ever smaller as the camera pulls back to show the house's massive façade.
There was more going on in the episode than just Sybil dying. In other developments:
• Edith receives a letter from an editor at a magazine called The Sketch who, impressed by her letter about women's rights in The Times, wants her to write a weekly piece for his magazine. "And when may she expect an offer to appear on the London stage?" quips a disapproving Violet.
Watch Downton Abbey, Season 3: Episode 4 Preview on PBS. See more from Masterpiece.
• Matthew tells Mary, as they're taking a stroll about the estate, that he hopes to shake up Downton's laissez-faire business practices. "There's been no investment. We need to work this land as it should be worked," he says. When he later shares his plans with Mr. Murray, Robert's lawyer and man of business, the older man encourages Matthew, telling him that too many similar estates are going under because of failure to adapt to changing times.
Mary comes upon their discussion and is none too pleased. "Do you intend to involve my father in these plans?" she acidly asks her husband.
• Downstairs, Thomas is crushing on Jimmy Kent (Ed Speleers), the recently arrived footman. He's getting all touch-feely with the handsome younger man, putting his hands on Jimmy's shoulders and standing directly behind him as he shows the footman how to adjust the house's grandfather clock.
Jimmy is ill at ease with all this tactile attention and mentions his discomfort to Sarah O'Brien (Siobhan Finneran), Thomas' former ally turned fiercest foe. "What are you implying? Nothing unseemly, I hope," says O'Brien, though from her calculating expression it's clear she is hoping for as unseemly behavior as possible on Thomas' part, since she could use it against him.
• Anna and John Bates (Brendan Coyle) may finally catch a break. During a jailhouse visit, they realize that they finally have proof, thanks to Anna's amateur sleuthing, that Vera, Bates' first wife, intentionally framed him for her murder when she actually committed suicide. "I hope she's burning in hell!" says Anna.
• Daisy (Sophie McShera) is still sweet on Arthur (Matt Milne), the other new footman (he's the tall one), but Arthur only has eyes for Ivy (Cara Theobold), the new kitchen helper. Daisy, frustrated by Arthur's interest in Ivy, continues to talk trash and be mean to her. Mrs. Patmore (Lesley Nicol), seeing what's going on, warns Daisy, "Alfred won't like you any better for being rough on her."
• And do-gooder Isobel Crawley (Penelope Wilton) is still trying to reform Ethel, the one-time Downton maid turned prostitute. She hires Ethel as her new cook, a job for which Ethel lacks even the most basic skills. "Isn't that a bit adventurous?" Isobel asks doubtfully when Ethel attempts a kidney soufflé.
Upon learning that Isobel has hired the ex-hooker, the oh so proper Carson is shocked.  He decrees that no servant from Downton Abbey is to visit Isobel's residence so long as Ethel works there.
Mrs. Hughes  (Phyllis Logan) takes a more compassionate view. "This is Ethel, our Ethel," the housekeeper tells him. "Besides, I don't remember Ethel as any great cook, so it may sort itself out."
———————————————
What was your reaction to Sybil's death?
———————————————
Read More
Filed Under: