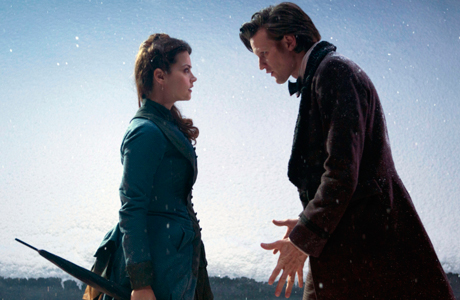 There is only one major news story that concerns fans of Doctor Who this week, and that is the premiere date for Phantom of the Hex, the first episode of the second half of Season 7. So, in case you missed it, it's Saturday, March 30, as part of BBC AMERICA's Supernatural Saturday block.
Here's the teaser for the Season 7, Part 2:
Warwick Davis has been speaking to SFX about his part in the next run of stories, following last week's insider revelations from Call The Midwife's Jessica Raine. Warwick will be appearing in Neil Gaiman's Cyberman story, and this is a particular thrill for him, as the Cybermen "were always scary to me. I was one of those kids who hid behind the sofa, so I know they are scary."
"I mean, it was an exciting moment to come face-to-face with one of those dudes. Seriously, it was a great thrill. I mean, it was a great thrill to be in Doctor Who. A career ambition. But to be in an episode written by Neil and to have Cybermen in it, was for me the jackpot."
And he reserves special praise for the main man himself:
"Matt Smith is amazing. These guys, they work so hard on that show. And Matt. He learns lines so fast. Scripts are given to him last minute and they'll go straight from one episode to the next one the next day and he's remembered it. But he's so full of energy and spark and imagination. You read the scene on the page and you think, that's a good scene, but Matt gets hold of it and it's like, 'Wow, that's incredible.'"
Here's what else is going on in space and time this week:
• AudioGO, the company behind tons of BBC Audiobooks, including the Doctor Who ones, put up this photo of Mark Gatiss, taking a break from reading the Third Doctor adventure The Planet of the Daleks in order to, er, read The Planet of the Daleks.
• Eleven Doctors, rendered lovingly in crochet wool, with a crochet TARDIS to match? Well done, Austin's Allison Hoffman!
• Now that the big reveal is over, and the dust can settle a bit, how about that new TARDIS interior, eh? What crazed genius went into creating that? Well, in an interview with the Doctor Who website, Production Designer Michael Pickwoad revealed his inspiration came from a variety of sources. Some practical – the need to have a gallery that cameras can get around – and some based on sound scientific principles.
He explained that he wanted "The feeling of technical precision in the Hadron Collider, the world's largest and highest- energy atomic particle accelerator, Hi-Tec Architecture and what might Barnes Wallis, the great inventor engineer who I once had the privilege of meeting, have come up with."
As we're still in January and that's official First Doctor month, you may wish to have a wallow in William Hartnell's tenure inside the TARDIS, and this YouTube playlist from BBC Worldwide should be just the ticket. Here's a sample:
• Last night, the BBC Radio Drama Awards were hosted by David Tennant, and despite Doctor Who not being mentioned by name, there were a lot of Who-ish faces present. Apart from David himself, Penelope Wilton (yes, we know who she is) was on hand to present the Best Actor in an Audio Drama award to Andrew Scott. And David Troughton, son of Patrick, won Best Supporting Actor. And then THIS happened:
• There's been an avalanche of interest in David Tennant's latest theatrical production, a version of Richard II for the Royal Shakespeare Company, in Stratford-upon-Avon (and then London), so much so that the RSC memberships are selling like hotcakes in at an all-you-can-eat IHOP buffet.
• Alex Kingston's not having a bad year either, having just signed up to play Laurel Lance's estranged mother Dinah in CW's drama Arrow. She'll be appearing on TV screens later this year.
• Love this greetings card (or should that be a Magritte-ings card?), from Red Bubble:
• Hats off to New Zealand for setting an impossibly high bar for everyone else to reach in the 50th anniversary stakes. A run of specially minted Doctor Who coins, set in TARDIS-shaped presentation boxes? We were only gonna bake a cake!
Oh speaking of special Whovian baking. This came from Tumblr:
• Let's go out with a song, specifically this suitably spacerocking Floydian take on the classic Who theme, by the band Traffic Experiment:
TTFN!
Read More
Filed Under: