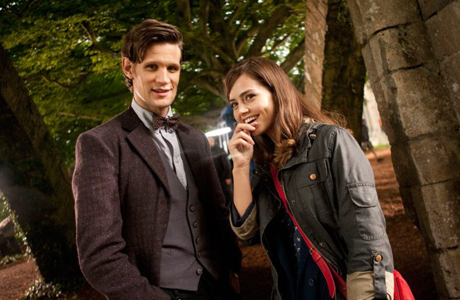 The 2012 Doctor Who Christmas special "The Snowmen" left us with a stunning cliffhanger and an intriguing question: who is the Doctor's new companion Clara Oswin Oswald (Jenna-Louise Coleman)? Well, as we enter the franchise's 50th anniversary year, Whovians won't have to wait that long for new episodes. Part 2 of Doctor Who Season 7 will premiere on Saturday, March 30 in BBC AMERICA's Supernatural Saturday block, it has been announced, alongside the network's new original sci-fi series Orphan Black and the comedy-variety chatfest The Nerdist.
Here's a teaser for Doctor Who Season 7, Part 2:
As we previously learned, the upcoming eight Doctor Who episodes will include installments from lead writer Steven Moffat (of course), Neil Cross (creator of Luther), Stephen Thompson, Mark Gatiss, and, yes, Neil Gaiman, who previously dazzled Whovians with his Season 6 valentine to the TARDIS, "The Doctor's Wife."
Here's the teaser for BBC AMERICA's Orphan Black, which tells the story of a "street-wise chameleon" (Tatiana Maslany) who learns that she's a clone.
What most excites you about the yet-to-be-seen episodes of Doctor Who?
Read More
Filed Under: