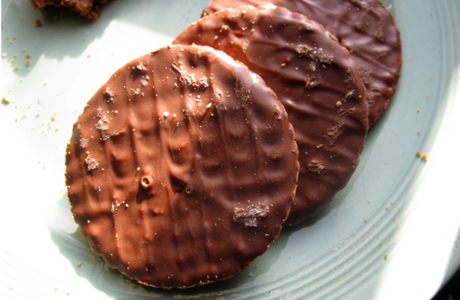 There's a Reddit post going viral at the moment that has touched a nerve with many Brits. Although it's supposed to be a spoof on the many ridiculous habits of us Brits, I found myself going through the list and mentally agreeing with more than a few of them. My friends on Facebook were openly admitting which ones they had done in the past.
Here's the original post on Buzzfeed, and I'd like to discuss Number Three, as this has been a bone of contention in my house.
Most Brits will agree that before taking the last of anything, you ask if anyone else would like it. That also goes for draining the last of the milk or orange juice from the container (another "issue" for me) or the last (British style) biscuit from the pantry. The underlying hope, of course, is that anyone is your company is too polite to say "yes" and you'll get the morsel anyway, but if there is an inkling of interest from the other person, you hand it over.
Not always so in our house, and indeed many others in the States it seems. Seeing my husband drain the last of the orange juice, the conversation goes something like:
Me: "You didn't ask if anyone wanted any."
Him: (Looking around the otherwise empty kitchen), "Did you want some? I can go next door to the store and get some more".
Me: "No, but that's not the point. You should ask if anyone else wants it before finishing it."
Him: "And if you do, I have to hand it over?"
Me: "Well, yes, but usually no one says 'yes'"
Him: "Well, wouldn't that be a little selfish of the other person?"
Even the post's author Jack Shepherd told the Independent newspaper, "If we had any biscuits in America, it would essentially be a national motto to always take the last one."  While I wouldn't go quite that far, I would advise Brits not to assume that that Americans in their company share the same British neuroses about this. As my husband rationally points out, there's usually more to be had.
For a glimpse into other British psyche problems, there's even an FB page that seems to be gathering momentum, and a whole piece plus hilarious reader comments at the Daily Mail web site. One woman says, "My husband (American) is driven nuts by the way my (English) daughter and I always leave a spoonful of food or so in the serving dishes. To take the last just feels far too rude." While I am guilty of the same offense, perhaps passing the serving dish around the table or picking on an unsuspecting individual to finish the last piece might assuage the husband.
When in the company of friends, do you always ask if someone else wants the last of biscuit/appetizer/slice of pizza?
Read More
Filed Under: