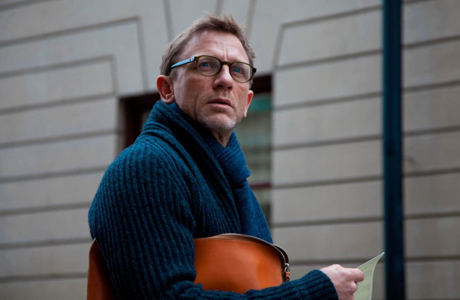 Daniel Craig and his eye color-coordinated sweaters (as seen above) could be written out of The Girl Who Played with Fire, the long-delayed sequel to The Girl with the Dragon Tattoo, says The Hollywood Reporter. It appears that the first film in the series based on Stieg Larsson's best-selling novels, while successful critically and financially, didn't hit Sony Pictures' blockbuster expectations, and the studio is looking to trim costs. And Mr. Craig, buoyed by the billion-dollar box office take of his Bond film Skyfall, reportedly wants a pay raise and not a pay cut.
While a source tells the Hollywood Reporter that Craig wants to reprise his role as Mikael Blomkvist, the studio may be looking to write the character completely out of the sequel, with female protagonist Lisbeth Salander (Rooney Mara) taking on a more prominent role.
It would be the height of irony if the British Craig, best known for his oft-recast part as 007, ended up replaced as Blomkvist. Could the sequel survive without his journalist character? Tell us below.
Read More
Filed Under: