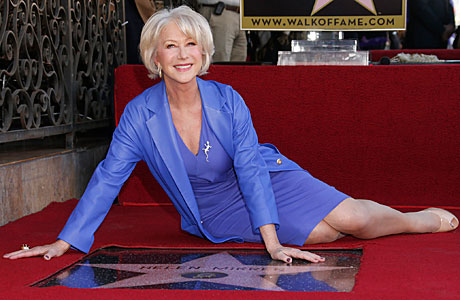 *pregnant pause*
…on the Hollywood Walk of Fame.
Yep, one of the UK's finest has taken her place on the floor, unveiling her star (the 2,488th placed to date) yesterday at a special ceremony.
And she's in pretty good company there too. Not only from the other 2,487 famous names on display, but her star is directly next to that of another extraordinary British talent, Colin Firth. Which means, in movie terms at least, that Queen Elizabeth II (from The Queen) gets to sit next to her own father, George VI (from The King's Speech).
She told the assembled reporters: "I couldn't be prouder and more happy that I'm actually going to finally lie next to Colin Firth, something I've been wanting to do for a very long time!"
Asked to provide a more serious answer (this is, after all, a sobering moment in any famous person's career in being famous), she elaborated a little: "Well I'm very pleased and proud and I think it's very good for the British monarchy that here on Hollywood Boulevard, the king and the queen are going to actually sleep together, for the rest of history."
Father and DAUGHTER, Helen, FATHER AND DAUGHTER…
Read More
Filed Under: