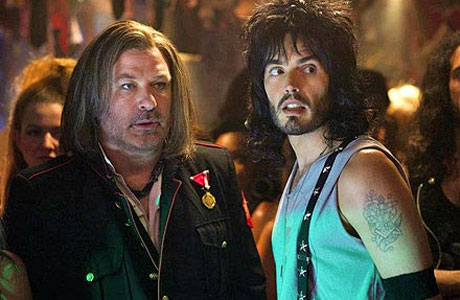 Or: why Adele's acceptance speech is proof that Hollywood doesn't understand the charisma of musicians.
If there is anything to be learned from a lifetime of watching movie scriptwriters attempt to shoehorn a generic rock star character into their scripts, it's that genuine rockers are too singular as people to be convincing as composites. Somehow, the leonine preen of Robert Plant, the raffish crow-dandy of Ronnie Wood, and the bewildered sloth of Ozzy Osbourne have been extracted from their original context and thrown together into THAT BRITISH ROCK STAR CHARACTER all the movies use: always British, always a tall and skinny guy in leather trousers with a creased face, floppy of limb and randy for everything – sex, drugs, booze, bad behaviour –apart from music itself.
They're basically Russell Brand in those movies he does when he plays a Russell Brand-type rock star and acts the goat. By which I mean he's devilish, a little wayward, and prone to wearing scarves as bracelets: Keith Richards in 1972 but without the dark intensity.
It's odd that this should be the stereotype, that this should be the person P!nk has in mind when she sings that song about being a rock star and smashes a guitar to prove it, and that this kind of indulged baby behaviour should be credited to the Brits. Our rock stars are somewhat less uniform than, say, anyone on Sunset Strip in 1988. We gave the world Jimmy Page, John Lennon, Lemmy, Liam Gallagher and Keith Moon, and the mirror held back up to us is, what, a shuffling Nikki Sixx-alike played by Bill Nighy? It's weird.
And this weirdness was made all the more apparent when contrasted with Adele winning her Golden Globe last night for "Skyfall" (the song of the movie of the resurrected franchise of the James Bond). Here's a singer who has come over from the UK and, to use the standard rock hack term "conquered the States." She has officially Made. It. She's a rock star.
And yet, far from adopting those curious transatlantic Joss Stone affectations that do sometimes afflict people whose dreams have so comprehensively come true, she appears, if anything, to be getting ever more British.
Look at her speech from last night's Golden Globes, it could've been scripted by Victoria Wood:
So, the next time there's a movie in which a British guy with privet hair is slurring about like a puppet with elastic strings, ready to smash his guitar at the drop of a hat, just remember what our real musical stars are – and have been – actually like. Yes, they're all a bit nuts and they're all a bit awkward, but if you want the louche guy in the leathers, ready to quote poetry at the drop of a hat and take a spiritual journey to other realms in order to inspire his muse, that's Jim Morrison.
Fraser McAlpine is British. This explains a lot. 
Read More
Filed Under: